World's Geekiest Wedding Proposal?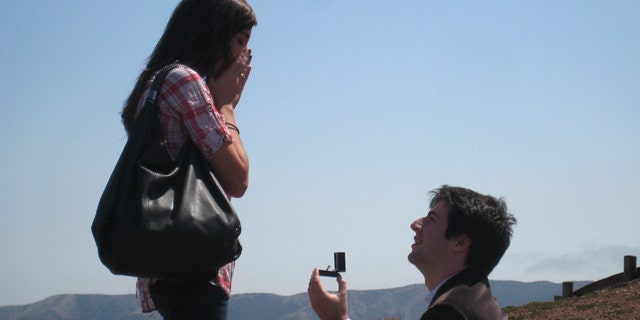 Two hearts were tied together this weekend -- in what may be the nerdiest wedding proposal ever.
Matt Van Horn, the 26-year-old business development manager for social bookmarking site Digg, used Twitter, Facebook, FourSquare, Qik and other social media to coordinate a surprise wedding proposal to his girlfriend, Lauren -- and stream it live on the Internet to family and friends.
She accepted. And "tradition" took a step further into history.
But was this just a publicity stunt, or did those websites add something special and personal to the event?
"I wanted to do a modern twist on a classic proposal," Van Horn told FoxNews.com. "I didn't mean for it to be a stunt. I'm just an early adopter of technology and thought it would be awesome to tie everything together."
To coordinate the proposal, Van Horn told his girlfriend that he was in New Orleans, going so far as to fake flying there and sleeping at the apartment of a nearby friend. On the big day, Van Horn's friend hid behind a rock at the chosen site, San Francisco's Bernal Hill Park, preparing to stream a video of the event live from his iPhone using the Qik service.
When Lauren arrived, Van Horn "checked in" to the location via FourSquare, automatically spreading the URL for the live camera feed via Facebook and Twitter -- ensuring that friends and family would get a front-row view of the event.
Van Horn's is among a slew of recent proposals by technology-fueled grooms. Several people have sent Twitter wedding proposals in recent months, and on the same day that Van Horn bent the knee, another man went a step further, sending the "will you marry me" message itself via FourSquare.
Is that too geeky?
"I think to each his own," Van Horn explained. "Some people express themselves better in different ways. I wanted to find the perfect hybrid. I knew I wanted to involve words, but thought I could add a geeky twist."
So how does Lauren feel about all of this? If her Twitter feed is any indication, it should be a match made in cyberheaven.
"Still in shock as to all that happened this weekend! But my left hand makes me realize it's all true =)" she posted a few days later.
Watch the wedding video below - and if you like it, feel free to retweet.
Follow FoxNews.com's science and technology coverage on Twitter.