'Words With Friends' spells L-O-V-E for some players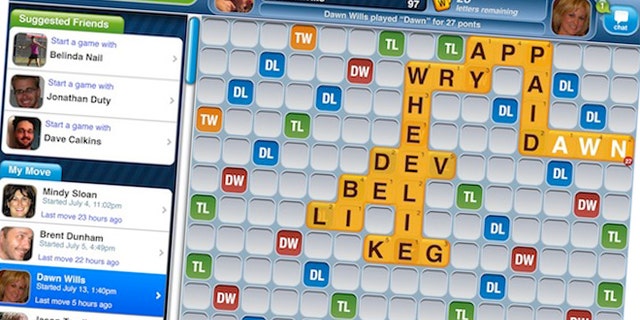 SAN FRANCISCO – Last summer, Kyla Smith spelled S-E-X-Y in "Words With Friends," an online Scrabble-like app on her phone.
It won her more than just 13 points -- it won her love.
Eventually her opponent, Charles Briggs, became her boyfriend. Up to that point, the two hadn't met in person. She lived in Texas, he lived in Arkansas. They met through the "random opponent" feature of "Words With Friends," which matches up anonymous players.
The game is played by nearly 20 million people a month on Facebook, and countless more on smartphones. Players take turns moving letter tiles on a virtual board, trying to rack up points by spelling out words.
For Smith, her flirty word was a joke. But Briggs says it showed him that they shared more than an affection for spelling. While playing "Words With Friends" with her, he says, "There was that little spark." He thought, "This girl is pretty awesome."
In Scrabble-speak, you might call it a double word score: Since launching in 2009, Zynga Inc.'s "Words With Friends" has transformed at least a few lovers of words into lovebirds.
Trish and David Palmer of Dacula, Ga., wedded last November following a year-and-a-half romance that started when they, too, hit "random opponent." Palmer lost their first game by nearly 200 points. Unfazed, she played again -- and lost. She kept hitting "rematch," and used the game's chat function to ask her competitor, "Where are you?"
Houston, he replied. She lived near Atlanta, she offered.
"I was just curious to get to know the person I was playing," says Palmer, a 41-year-old nurse. Her competitor mentioned having two kids and being divorced. Palmer, too, was also going through a divorce. Both had been married 18 years, and a message relationship began to flourish inside the game. They swapped emails and phone numbers, and matters progressed.
"Words With Friends" co-creator Paul Bettner says he intended the game for people who were already real-world friends. But, worrying players wouldn't have enough friends on the game, he added the random opponent option. It matches up two people playing at the same time, regardless of their location.
He figured 10 percent of players would use random opponent. In reality, more than 30 percent use it. There are thousands of random matches every minute.
"It's like the purest version of fate," says Bettner. "When two people meet, it's that they've hit that button at the exact same moment in time."
Click here for more on this story from The Wall Street Journal.