Windows 8 Developer Preview Hands-on: Inside All the New Features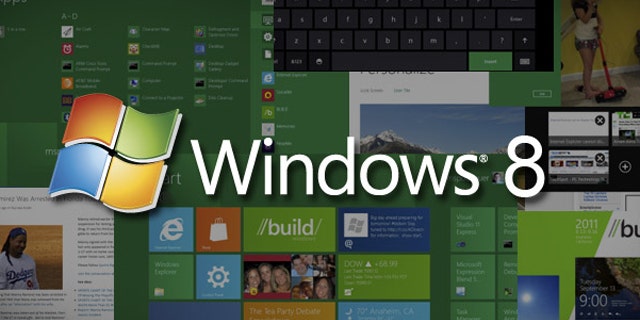 Microsoft is definitely blurring the line between mobile and desktop operating systems with Windows 8, which combines an attractive Windows Phone-like interface that's optimized for touch with the versatility of traditional computing (when you want it). You'll also enjoy much faster boot times and be able to purchase apps from the new Windows Store.
Developers will be able to download the developer preview this week, but we got an in-depth look at the OS and wanted to share our impressions.
Choose Your Input Weapon: Touchscreen, Mouse, or Pen
We already knew that Windows 8 sports a slick Metro interface just like Windows Phone, complete with Live Tiles that provide at-a-glance info and a panoramic presentation that invites swift sideways scrolling. It's tailor-made for touch, but when you attach a keyboard and mouse the way you interact with the OS changes. For instance, the start button will appear in the bottom left corner instead of the right-hand side, and a right click reveals the tabs and address bar in IE10 instead of a swipe up. Windows 8 also supports pen input, both for navigation and for pen-enabled apps like Ink Pad.
Staying in One Mode
In a swipe at Android, Microsoft says that it didn't want users to enter different modes to customize the look and feel of the Windows 8 Start screen. You just gently pull down on a Live Tile with your finger to make the app bar appear at the bottom of the display. You can then make that tile smaller or bigger, uninstall it, or unpin it.
Intel Gives Users a Closer Look at Its Medfield Tablet
Multitouch on Steroids and Semantic Zoom
Want to move a Live Tile on the Start Screen of Windows 8? You can select a tile with one finger while panning to the left with another, making it a cinch to drop it exactly where you want. To make navigating through your tiles less of a chore, Windows 8 will include a new feature called Semantic Zoom. With a pinch gesture you can see a zoomed out view of all of your groups of tiles on a single screen. From there you can move groups of apps around and also rename them.
Internet Explorer 10: Totally Chromeless
The developer preview of Windows 8 includes the new Internet Explorer 10 browser, which provides a full-screen view of websites. Swiping down from the top of the screen reveals the tabs and address bar. In this view you can also pin sites or specific articles to the Start screen. When you start typing into the address bar, you'll see a list of Frequent sites up top for quick access. Pressing and holding on the new Tab button starts an InPrivate session for those who don't want to leave a trace of their online activities.
Picture Password
Windows 8 lets you log in with a password, but you can also create a Picture Password. You select a photo, then perform three gestures on the picture that you can easily remember. For example, on a face you might touch the two eyes than and then draw a line between the peepers with your finger.
Intel's New Haswell Chip Uses 20X Less Power Than Today's Laptops
News Headlines and Magazinify
Windows 8 has a built-in Headlines app that lets you select feeds from multiple content sources, as well as add your own via a URL. For now the pickings are slim in various categories (such as Inc. in business and TMZ in entertainment), but it's easy to customize to create a mashup of content you care about. You can even create your own mini magazine with a feature called Magazinify. Once you check off the stories you want to read from your feed, you can tap the Magazinify button at the bottom right of the screen. The resulting layout is very clean but not quite as dynamic as Flipboard. Then again, this is a developer preview of the OS.
A Smarter Touch Keyboard
The touch keyboard on Windows 8 looks and sounds like a supersized version of what you'll find on Windows Phone devices, but it adds extra features. First, you can select a split layout so you can more easily peck away with your thumbs on a wider display. And Windows 8 automatically suggests words as you type, presenting a large Insert key right on the keyboard so you don't have to reach up and touch the selected word (though you can).
However, we have some issues with the keyboard. There's no dedicated number row, as there is on the HP TouchPad, and sometimes we had to minimize the keyboard manually because it was obscuring a button we needed to press to move to the next screen.
The Five Charms: Search, Sharing, and More
Swipe in from the right side of the screen on a Windows 8 device and you'll see five menu options that Microsoft calls Charms. Search lets you search an app contextually, such as IE 10, or you can launch search from the Home Screen and perform a search for apps, settings, or files. You can also extend your search through apps, such as IE or Socialite (if you're looking up a trending topic).
Next up is Share, which enables you to share items with your social networking friends or followers. We tried this in Explorer by opening a web article, touching Share, then selecting Tweet@rama. Windows 8 will make its sharing APIs available to developers of all sorts of apps. We also like how the OS remembers the people with whom you share the most, listing them as shortcuts.
Start is as simple as it sounds. Pressing this icon will bring you back to the Start screen at any time. In addition, the Windows 8 tablets (such as the Samsung Windows Developer Preview PC) have a dedicated Start button. Laptop and desktop owners will be able to press the Windows button on the keyboard to activate the Start menu. The Devices option will show you the devices that are available to you at any given time, such as an external display to which you can extend your desktop.
Last but not least is Settings, which will show settings related to the app you have open but also provide one-touch access to network settings, volume, brightness, notifications, power, and even changing the language (though we expect that to go away). This setup works fine, but we prefer how Android Honeycomb lets you drill deeper and access all of the settings from the notification area. On Windows 8 you need to use the separate Control Panel.
Samsung Windows 8 Preview PC Hands-on: The Future of Tablets?
Streamlined Control Panel
Microsoft has finally modernized its Control Panel in Windows 8 with an intuitive interface that lists categories down the left side and options for those categories on the right. From this menu you can personalize the Lock Screen, manage users, toggle notifications for various apps, and more. Unfortunately, you can't access all the settings from this menu. If you want to dig deeper you need to open the old-school Control Panel in desktop mode. Why not put everything under one roof?
Multitasking Pros & Cons
On the plus side, switching between apps in Windows 8 is a cinch. You merely swipe from the left side of the screen. Even better, you can snap an app in place on the right side of the screen and resize it, making it easy to have two apps running side by side. You can also drag the bar for the app to resize it. Unfortunately, Windows 8's Metro UI doesn't allow you to see all of your running apps on one screen, so you have to cycle through open programs until you land on the right one.
Desktop as App, New Explorer and Task Manager
The traditional Windows desktop is always just a tap or click away on Windows 8, as Microsoft treats it just like an app with its own Tile. We found it odd at first that pressing the Start button re-launches the Start Screen instead of presenting the usual list of options.
In addition to running more sophisticated programs like Photoshop, the desktop environment includes an Enhanced Windows Explorer that has a Ribbon interface that presents a lot of options at a glance. For instance, you can uninstall a program right form the Computer tab.
Windows Task Manager gets an even bigger overhaul in Windows 8, with a very simple menu of tasks you can end. However, those who crave more information can check out the detailed view, which shows just how much resources each app is using (CPU, Memory, Disk, etc.) Those on metered mobile broadband plans worried about how many megabytes each app is eating up can look up that info under App History.
We're just not sure why the Task Manager needs to live in desktop mode. Yes, Metro UI apps suspend when they're in the background but we think you should be able to close apps from withing the Metro environment.
Apps and the Cloud
Windows Live runs deep in the Mail, Calendar, Photos, and Messaging apps for Windows 8. Though these apps weren't live on our demo device, we learned a few interesting tidbits during our briefing on the OS. The Mail app will have a Metro-style design, letting you swipe to select messages for deletion and access all your folders with a tap. The Calendar app will let you see yours and your family schedule side by side. The People app brings together contacts from a variety of services, just like Windows Phone 7.5, including Facebook, LinkedIn, and Exchange. And Mesaging lets you start conversations over Windows Live or Facebook.
Your Stuff Stays With You
Windows 8 leverages Windows Live so that all you need to do when you hop on another machine is enter your Live ID and Exchange info (if you have it). The notebook or tablet will spring to life with your Lock screen, your contacts, your apps, and your SkyDrive content. Microsoft calls this roaming.
Windows (App) Store
Windows 8 will have a built-in app store that will promote Metro-style, full-screen applications, Categories shown off included games, social networking apps, productivity, education, and finance. You'll be able to see screen shots, view descriptions, and try apps before you buy them.
It's clear that Microsoft has put a lot of thought into Windows 8 in terms of the interface and how apps can work well together through features like Share. Having a built-in app store will go a long way towards making consumers even more comfortable with living in the Metro UI. Still, the traditional desktop environment feels like going back in time–despite Microsoft's attempts at a facelift. The mere fact that you double click on something to open an app or file in desktop mode versus once in Metro mode tells you that they are different worlds. Multitasking should also be more straightforward so that you can see all open apps at once.
Overall, though, Windows 8 represents an impressive and bold evolution of the world's most popular operating system that consumers will find fun and immersive. Now it's up to developers to create a legion of full-screen Metro-style apps so there's less of a need to use desktop mode at all.