Why You Need a Smartphone: Video Calls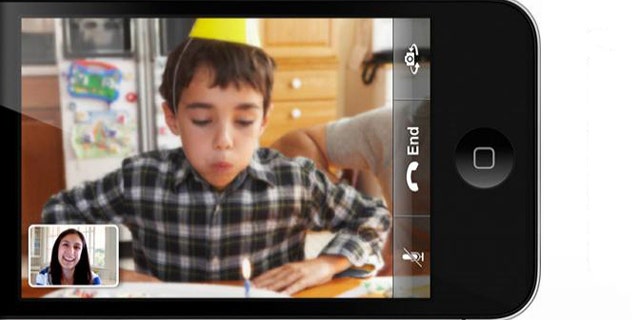 E-mail, texting, tweeting, posting, blogging -- they're all as common as telephones and computers. So why haven't video calls taken off too? If this fall's gear is any indication, it's about to.
I've been enamored with video calling -- or videoconferencing, as the business folks know it -- for nearly two decades. It used to be expensive, and about as much fun to set up as doing your taxes. You needed a couple of thousand dollars worth of computer equipment and a costly high-speed line to make it work, and then you could call only a handful of people with similar equipment.
Today, smartphones are much more powerful than that old gear was, and broadband Internet access is much more common. That's why Skype, the Internet-based voice and video chat service, is so popular. That and the fact that most of its 560 million users primarily click on it to make free calls anywhere in the world.
But Skype -- despite a raft of accessories and handsets -- is still mainly thought of as a computer service. And some companies are trying to change that perception.
Asus has just upgraded its standalone Skype videophone, for example. The Asus Videophone Touch AiGuru SV1T, which looks like a little television, has a 7-inch touchscreen, a built-in microphone and speaker, and connects to the Internet via Wi-Fi or an Ethernet cable. Expected to cost about $300, it makes video calls nearly as easy as making a phone call, although you still need to have a free Skype account and can converse via video only with other Skype users.
Given Skype's vast user base, television makers are even attempting to bring the service into living rooms via special cameras that attach to the latest Internet-connected TVs (you know, the ones that offer streaming Netflix movies).
Samsung's UN46C7000, for example, is a $2,000 46-inch LCD set that's ready for Skype out of the box. It works only with a special $240 camera, however, the FreeTalk Skype Camera. Panasonic has also Skype-enabled several of its latest HDTVs, including the 50-inch Panasonic TCP50VT25, a $2,360 plasma set. But it too needs a special $170 video camera to make a video call.
In some preliminary tests, with similar television systems I found the effect interesting -- but also chilling. The picture can be a bit blurry at times, but the idea of seeing distant relatives sitting in their dens in another country on a big-screen TV was appealing. On the other hand, it was also unnerving to realize that people who were gazing into my living room could see how messy my home is -- and what toys my daughter was playing with (shouldn't she be doing her homework?).
Cisco apparently isn't worried about the privacy aspect. The company is poised to introduce its own video-calling device for the home this week, according to The Wall Street Journal. The networking giant is already well know for its business-oriented telepresence systems. Costing five figures or more, the company's telepresence video calling systems involve specially outfitted rooms with wall-sized screens specifically designed to facilitate video meetings. The video picture can be crystal clear and the effect quite impressive.
A telepresence setup usually involves decorating and configuring all the rooms identically, whether they're in Bangkok or London, in order to create the illusion that everyone on the call is sitting in the same room. I've had meetings this way with people in California and Germany while I sat at a table in New York City. Within a few minutes, I forgot that the other people were thousands of miles away. It felt as if we were chatting across the same board room table, except that I had to get up to get my own coffee.
If Cisco can recreate this effect in the home -- for hundreds rather than thousands of dollars -- that would be an important accomplishment. It could actually push videoconferencing into the mainstream. Or perhaps the mobile generation will latch onto the idea of making video calls from their smartphones.
The $200 HTC Evo on Sprint's 4G network for example, has a front-facing camera for making video calls using Fring software. It allows you to make video calls over the cell phone connection or Wi-Fi. Better still, you can place calls to Skype users. The video quality can be poor to fair, depending on the reliability of the connection, but it can also be mesmerizing: "Look where I'm standing!"
Apple's latest handset, the iPhone 4 (starting at $199), also lets you make video calls using its FaceTime app. It works only with other iPhone FaceTime users, however, and only over a Wi-Fi connection. So calling Grandma back in Peoria isn't likely an option.
Will all these video call-enabled gadgets and TVs eventually make such communications as common as texting? It will probably take years for most of us to get comfortable with the idea of people not just hearing us but also seeing us on a call. I once was caught in nothing but my gym shorts by an incoming video call -- and I dread how much more awkward the situation could get.
Indeed, ridiculed video-calling services such as Chatroulette (which rapidly devolved into an international cyber center for exhibitionists) and recent events such as the Rutger's University tragedy reveal a sinister side to such online video technology. But like cell phones and text messages it's coming. Let's just hope we all learn how to use it properly.
FoxNews.com's SciTech section is on Twitter! Follow us @fxnscitech.