Why US teens are ditching Facebook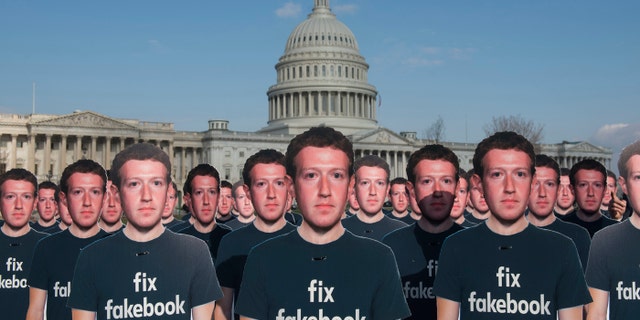 NEWYou can now listen to Fox News articles!
A new study shows that U.S. teens are increasingly turning away from Facebook, an issue that has plagued the Mark Zuckerberg-led social network in the past.
According to a new report from Pew Research Center, only 51 percent of U.S.-based teenagers now use Facebook, a 20 percentage point drop since 2015, when Pew last conducted its research.
"This shift in teens' social media use is just one example of how the technology landscape for young people has evolved since the Center's last survey of teens and technology use in 2014-2015," a writeup of the study reads.
FACEBOOK EXECS GRAPPLE WITH THE 'RESPONSIBILITY' OF FACEBOOK
Pew Research noted that other social networks, including Google-owned YouTube, Facebook-owned Instagram and Snapchat have surpassed Facebook in terms of teen preference at 85 percent, 72 percent and 69 percent, respectively.
Facebook is still way ahead of Twitter, as just 32 percent of respondents said they use the Jack Dorsey-led social network.
Breakdown by demographic
Pew also found lower-income teens are more likely to use Facebook as their most-used social platform than those in higher income households, at 22 percent compared to 4 percent.
"There are also some differences related to gender and to race and ethnicity when it comes to teens' most-used sites," the write-up of the study added. "Girls are more likely than boys to say Snapchat is the site they use most often (42 percent vs. 29 percent), while boys are more inclined than girls to identify YouTube as their go-to platform (39 percent vs. 25 percent)."
Pew also found that 41 percent of white teenagers are more likely to say Snapchat is their preferred destination, compared to 29 percent of Hispanics and just 23 percent of African-American teenagers. Black teens overwhelmingly said that Facebook was their most used site compared to white teens, at 26 percent compared to just 7 percent.
FACEBOOK USER AUCTIONS PERSONAL DATA ON EBAY FOR 99 CENTS AND BIDS SOAR: 'SELL IT TO ADVERTISERS OR WHATEVER'
Menlo Park, Calif.-based Facebook said it had 2.2 billion monthly active users and 1.45 billion daily active users at the end of the first-quarter 2018. The company does not break out the age range of its users, though it does break them out by geographical region, with the U.S. and Canada having 241 million monthly active users.
Pew interviewed 750 teenagers earlier this year to aggregate the results of the study and found, perhaps not surprisingly, that smartphone ownership is a massive part of teenagers' lives. Ninety-five percent of teens now have a smartphone or have access to one, compared to just 73 percent three years ago.
Battle wages on
The battle to add and retain teenagers has been an issue for several years, especially after the first 2015 Pew Research report, which sent Facebook shares on a downward spiral for some time.
In February 2018, research firm eMarketer said it expects Facebook to lose 2 million users under the age of 25 in the U.S. after losing approximately 1.4 million users between the ages of 12 and 17 in 2017.
The issue also cropped up in 2017, when USA Today cited additional data from eMarketer saying it expects 14.5 million people between the ages of 12 and 17 to use Facebook, a decline of 3.4 percent from the previous year.
FACEBOOK AND GOOGLE SLAMMED, ACCUSED OF BREAKING NEW GDPR DATA PRIVACY LAW
Though the issue is concerning for Facebook and its leadership, especially in the wake of the Cambridge Analytica data scandal, it's not all bad.
Facebook owns Instagram, having bought it in April 2012 for a mixture of cash and stock, which at the time, was worth $1 billion. One month later, Facebook went public in what was then the largest tech IPO in history. Prior to the acquisition, Instagram, which was widely seen as a threat to Zuckerberg's Facebook empire, had 30 million users available on Apple's iOS.
Under the ownership of Facebook, Instagram's monthly active user base has ballooned to more than 800 million monthly active users, is available on both Android and iOS, and has become arguably the platform of choice for celebrities and influencers (often called "instastars").
Facebook does not break out how much revenue it generates from Instagram, but MediaKix estimated that the platform is worth $100 billion in December 2017, or 100 times what Zuckerberg and team paid for it.
Since going public in May 2012 at a valuation of just over $100 billion, Facebook has seen its value soar to more than $550 billion, led by its strength in mobile advertising.
Follow Chris Ciaccia on Twitter @Chris_Ciaccia