Why is Apple looking to 'old Hollywood' for help?
As Apple dives deeper into creating and producing original content, a return to the "golden age of Hollywood" may be in the cards for the tech titan.
According to the Financial Times, Apple is looking at The Culver Studios, the legendary studio that shot movies such as "Gone With the Wind," "The Matrix," "Citizen Kane" and Alfred Hitchcock's "Spellbound" as the center for its push into original content.
Other productions shot there include the 1966 "Batman" television show, Steven Spielberg's "E.T." and Martin Scorcese's "Raging Bull."
WILL CONSUMERS PAY $1,000 FOR THE NEXT IPHONE?
Aside from the aforementioned productions, The Culver Studios is part of Hollywood lore, having been owned by the likes of Cecil B. DeMille and Howard Hughes in the past. In 1956, the lot was purchased by Desilu Productions, co–owned by Desi Arnaz and Lucille Ball.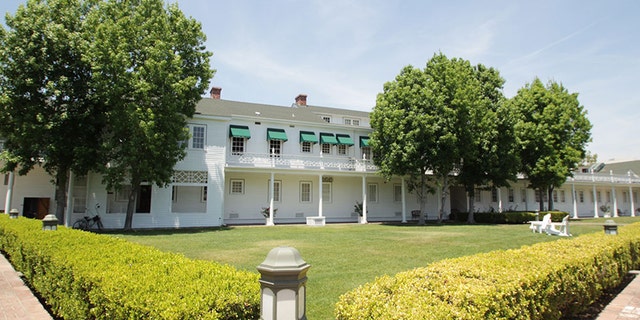 By acquiring a space such as The Culver Studios, it would signify Apple is in the original content space for the long haul, say analysts.
"Certainly they need a base in Hollywood, and having it be a place with a storied history and the added benefit of being able to shoot movies and TV shows on set is a huge bonus," Jackdaw Research analyst Jan Dawson told Fox News via email. "It's a symbolic move that sends the message that Apple wants to be a part of Hollywood and not just Silicon Valley."
Apple did not respond to a request for comment, while The Culver Studios declined to comment.
In June, Apple announced it had hired Jamie Erlicht and Zack Van Amburg to lead its video programming efforts. While at Sony Pictures Television Erlicht and Van Amburg were responsible for projects such as "Breaking Bad," its spinoff "Better Call Saul," "The Crown" and others.
The duo will report to Eddy Cue, Apple's senior vice president of Internet Software and Services, who spoke highly of them when the announcement was made.
"Jamie and Zack are two of the most talented TV executives in the world and have been instrumental in making this the golden age of television," Cue said in a press release. "We have exciting plans in store for customers and can't wait for them to bring their expertise to Apple — there is much more to come."
APPLE COULD BE THE WORLD'S FIRST TRILLION DOLLAR COMPANY
Last month, The Wall Street Journal reported Apple is planning to spend $1 billion on original content over the next year. By comparison, HBO spends roughly $2 billion on content, with around half of that for originals such as "Game of Thrones." Netflix's Chief Content Officer Ted Sarandos has said the company spent $6 billion on original content in 2017 and is looking to ramp that up to $7 billion next year, according to an interview with Variety.
Original content is going to be a big part of growing Apple's services business, as it seeks to move away from being so heavily reliant on the iPhone.
In its most recent quarter, Apple sold 41 million iPhones, accounting for $24.8 billion in revenue. By contrast, Apple's service revenue during the quarter was $7.2 billion, aided by Apple Music which has surpassed 27 million paying subscribers.
It's likely the new shows would live inside Apple Music, where the tech giant has started to produce original video content. "Planet of the Apps," a reality show about app developers has not been met with critical acclaim, scoring just a 6 out of 10 rating on iMDB. The show is not rated on either Rotten Tomatoes or Metacritic.
Apple has had slightly better luck with its version of "Carpool Karaoke," a spin-off of the "The Late Late Show With James Corden," which sees celebrities such as LeBron James, Sophie Turner and others sing along to popular music.
Apple is expected to unveil new three iPhones, as well as a new 4K-enabled Apple TV set-top box and a new Apple Watch as its Sept. 12 event at its new Cupertino, Calif. campus.
Follow Chris Ciaccia on Twitter @Chris_Ciaccia
This story has been updated to include Culver Studio's decline to comment.