White House updates app, invites you to tinker with it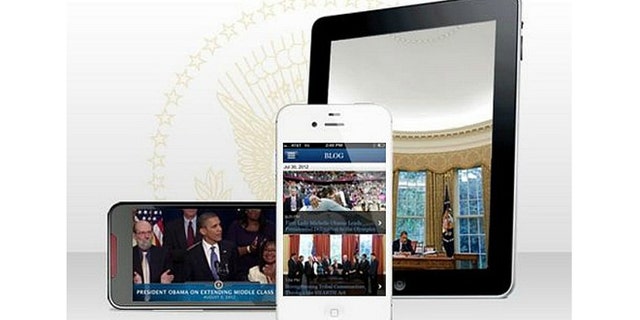 The White House released new versions of its White House app for iOS and Android Tuesday, including apps tailored for tablets. And in an unprecedented move, it opened its apps to developers to modify for their own use.
The expansion of mobile apps is designed to give Americans access to the White House "anytime, anywhere and on any device," Peter Welsch, President Barack Obama's head of digital strategy, wrote on the White House blog. Over the past two years the number of mobile visits to WhiteHouse.gov has tripled, reaching 15.17 percent of total traffic, he said.
Whether you're using an iPhone, Android phone, iPad or Galaxy Tab, you'll be able to stream live video of White House events, swipe through high-resolution photos and read the latest releases in the Briefing Room. Tuesday's briefing included a transcript from Obama's noontime speech at Norfolk State University, his last stop before the opening the Democratic National Convention in Charlotte, N.C.
[pullquote]
The president said he planned to watch his wife's convention speech from home with his girls before leaving for Charlotte Wednesday. A built-in bookmarker allows you to save content to your favorites and read later.
America has become accustomed to Obama's masterful use of social media, such as the president's Ask Me Anything on Reddit. And now mobile developers can get in on the game. With today's release, the source code for the mobile apps was posted on Github, a popular site where programmers can develop new programs with one another. That means that mobile developers can add live streams, briefings and the other content available on the White House app to their own mobile creations.
Welsch said his staff plans to continue updating the apps and mobile site in the months ahead and encouraged the public to email or tweet @WHWeb with new ideas.
How about this one? Enable landscape viewing on the iPad — unless you are looking at individual photos, which can be viewed both horizontally and vertically, the display remains in the vertical view no matter how you rotate the device.
Copyright 2012 TechNewsDaily, a TechMediaNetwork company. All rights reserved. This material may not be published, broadcast, rewritten or redistributed.