Where do Apples go to rot?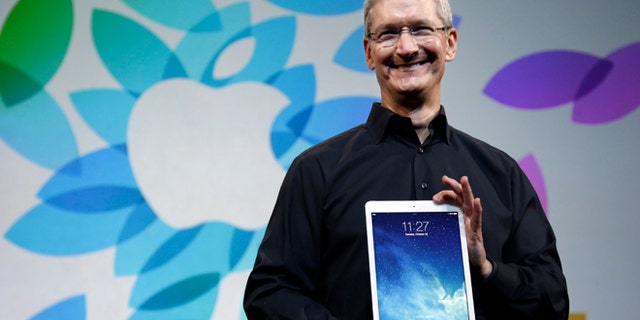 NEWYou can now listen to Fox News articles!
Apple is set to begin selling its latest iPad Air and iPad Mini, prompting millions of folks to dump their old tablets -- along with countless iPods and iTouches. But where do all of those old gizmos go?
Consumers today have a multitude of options for getting rid of their outdated technology, from Amazon to Apple to Walmart and more, and most mean you'll end up ahead, with more than a few bucks in your pocket. Not so long ago, if you wanted to sell an old iPad you were most likely looking at eBay. So what happens to all of these iPads and iPhones once they've been bought up by trade-in programs?
Devices that can't be revived or that are damaged are mined for their parts and then recycled. But gear in working and retrievable condition is sold to a wholesaler and refurbished. And typically, those products end up overseas, explained Anthony Scarsella, chief gadget officer at Gazelle, a company that buys used technology and resells them to wholesalers.
[pullquote]
"The demand is very global—we have buyers in Latin America, Hong Kong, Africa, it's pretty much every continent. The majority of our wholesalers are overseas," Scarsella told FoxNews.com. "To buy these products new in some third world countries is extremely expensive, with prices that are much higher than in the U.S."
This thriving second economy for "bruised Apples" -- once repaired, of course -- is driven by the healthy demand for all things iPad.
"Right now there's an insatiable demand in secondary markets for older and unwanted devices, and that really applies towards Apple products like the iPhone and iPad," Scarsella said. Gazelle doesn't have more specific, country by country data, however.
Adds Nik Raman, founder of Usell.com, a marketplace that connects consumers directly with wholesalers who want to buy used technology, "Apple devices retain value the most. We see them depreciate by about 5 percent per month, whereas Android devices depreciate by about 10 percent per month."
Not even iDevices retain their value indefinitely, though. The older your device, the less you can expect to get for it. Usell's Raman cautions that in general, if a device is more than three years old, you may not be able to sell it. But a three-year old first-generation iPad? BestBuy.com will give you $95 for a "good" condition 16GB model.
The sooner you sell, the more money you can get. Gazelle's data shows a spike in consumers selling devices on the days Apple has its launch event to announce a new product. "The iPad 2 and 3 are now the iPads that are being sold the most," Scarsella said.
But it's not just ancient iPads that are getting ditched: Gazelle's data shows 66 percent of iPad trades made on 10/22 -- the day the iPad Air and iPad mini with Retina Display announced -- were for iPads that Apple debuted in 2012.
Apple's own trade-in program is part of its Reuse & Recycling program, which is run in partnership with PowerOn Services. While Apple declined to comment for this story, its recycling FAQ says that the company "often" can retrieve up to 90 percent of the original device's weight, recovering and reprocessing glass, metal, and plastics. While consumers can't access a tablet's battery, for recycling and reclamation purposes it's easy for batteries to be removed and safely disposed of in accordance with local e-waste laws.
For those interested in ditching an aging device, trade-in programs are all the rage among big-box retailers. Amazon, Apple, Best Buy, GameStop, Office Depot, Radio Shack, and Walmart all have trade-in programs, and those options are in addition to services like Gazelle, NextWorth, and Usell.com.
Typically, the amount you'll get depends upon the condition of your device. Do your research before accepting a trade-in deal, though, since the terms and value you'll get will vary wildly from store to store and from service to service. Some companies are more forgiving of scratches and scuffs, some refuse to accept non-working devices and others will accept both.
For example, whereas Gazelle accepts a broken device, Best Buy will not. But a Best Buy spokeswoman noted that the company will reclaim parts from devices it accepts, and if a device can't be refurbished and sold, or sold via a secondary market channel, Best Buy will then recycle the device.
What you get back varies, too. Apple, Amazon, Best Buy, and Walmart all give you gift cards, while Gazelle and Usell.com get you cold, hard cash (via check or PayPal). Some programs cover a wide swatch of consumer electronics, while others are limited to specific models and devices.
It goes to show you: Bruised fruit still has a lot of value.