What to expect with Apple's 2017 iPhone 'X'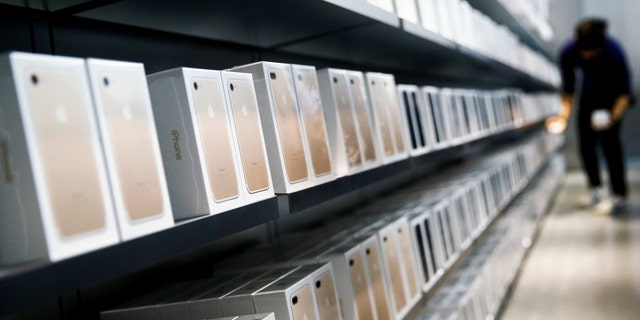 NEWYou can now listen to Fox News articles!
With Apple's next iPhone seeing even more fevered speculation this week, a long-time display expert offers his predictions.
Call it the "iPhone 8," or "10th anniversary iPhone" or what some analysts on Wall Street refer to as the "iPhone X" -- with "X" referring to the roman numeral 10 -- expectations for Apple's next phone are high after the company turned in a record quarter this week, selling more iPhones than ever.
The centerpiece of that future phone, due later this year, will likely be an organic light-emitting diode (OLED) display, according Raymond Soneira, a display expert who heads DisplayMate Technologies and published a report this week with his thoughts on Apple's future phone.
APPLE WILL START BUILDING IPHONES IN INDIA THIS SPRING, REPORT SAYS
Soneira, who holds a Ph.D. in theoretical physics from Princeton University, founded DisplayMate Technologies in 1989, and has advised many of the world's leading device manufacturers
"Most of the iPhone 8 OLED hardware display [specifications] will undoubtedly be very similar to the OLED displays on Galaxy Note7, and particularly the upcoming Galaxy S8," Soneira said in his report. The S8 refers to Samsung's upcoming Galaxy smartphone. An iPhone using an OLED display -- which offers some critical advantages over liquid crystal displays (LCDs) -- would be a first for Apple, which has used LCDs exclusively to date on its iPhones.
"At least in 2017, everyone's essentially using the same hardware," Soneira told Fox News in a phone interview, referring to the fact that Samsung is the only viable high-volume supplier of high-quality OLED smartphone displays and Apple will likely have no choice but to use Samsung OLED displays for the foreseeable future. And that is not just Soneira's opinion -- Asia-based market research analysts have been saying the same thing for months.
APPLE WATCH SALES SPIKED OVER THE HOLIDAY: SMARTWATCHES ARE HERE TO STAY
The challenge for Apple is that the switch to an OLED display is fraught with complexity. By using an OLED display, not only does the mechanical engineering change but so does the electronics and the batteries -- and the software tied to the display has to be rewritten.
That also presents Apple with an opportunity to set itself apart from the competition. "It will be particularly interesting to see how all the Smartphone manufacturers will differentiate their similar OLED display hardware with differing and innovative software and firmware," Soneira said in his report. Firmware refers to software that handles certain basic "low-level" control of the hardware.
This year expect only one high-end OLED iPhone
The conventional wisdom among some analysts and experts is that Apple will only sell one pricey, high-end OLED iPhone model this year. That's because Samsung won't be able to supply the tens of millions displays per quarter that Apple needs for multiple models. The South Korean electronics giant must sell its OLED displays to other large smartphone customers while also meeting the in-house demand for its popular Galaxy phones.
THE IPHONE 8 MIGHT BE MORE EXPENSIVE THAN YOU EXPECT
Soneira did offer some thoughts in his report about what the future OLED iPhone might look like. "With a curved screen OLED, the iPhone display will almost certainly be bezel and border free to the outside edges, and fill all or almost all of the entire front view edge-to-edge," he said, referring to a display design that has virtually no borders (bezel), which would be a stark contrast to the current iPhone 7 and 7 Plus.
Soneira continued. "With rumors predicting that the home button, fingerprint sensor, ambient light and proximity sensors will be incorporated within the display."
The question that nobody can answer yet, is what will Apple's secret sauce be. "What's going to make an OLED phone shine is all of the fancy software, firmware, and OS (operating system) stuff that make the phone useful and nice to use," Soneira told Fox News.
Apple did not respond to a request for comment. Samsung has yet to reply to a request for comment.