VIRAL: 3-foot snake slithers out of 'terrified' man's cereal box and into dishwasher
NEWYou can now listen to Fox News articles!
A man wasn't expecting to have "corn snakes" for breakfast Saturday morning — but that's exactly what he got as a 3-foot snake slithered out of his cereal box and into his dishwasher.
The man was "terrified" as the box moved and he watched a long white snake emerge inside his Yorkshire, England home. He called the Royal Society for the Prevention of Cruelty to Animals (RSPCA) for backup.
"I think he was expecting to have Cornflakes for breakfast - not Cornsnakes!" RSPCA animal collection officer Katie Hetherington said in a statement provided to Fox News. "The poor chap was absolutely terrified - I think it was the last thing he expected to find in his kitchen!"
MYSTERIOUS SOUTH CAROLINA FISH WITH HUMANLIKE TEETH STUMPS INTERNET
"I think he was expecting to have Cornflakes for breakfast - not Cornsnakes!"
Hetherington identified the snake as a corn snake, a North American rat snake that got its name "from the resemblance of its belly markings to kernels of maize or Indian corn," the Maryland Zoo explained in a blog post online.
The RSPCA said it's one of the "most commonly kept" exotic pets in England and the organization has been noticing a recent uptick in calls about the species. According to its website, the majority of corn snakes sold in the U.K. are bred in captivity.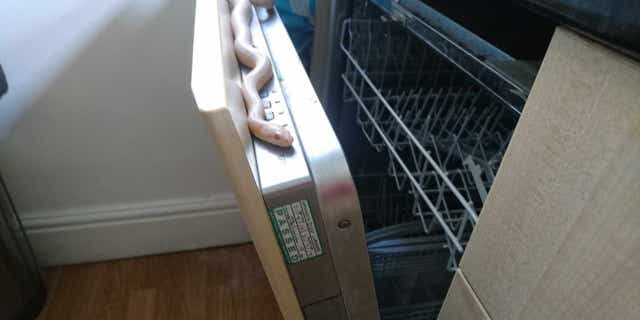 That's why wildlife officials believe this particular corn snake was a family pet that escaped its tank.
"Corn snakes are ... particularly good at escaping!" Nicola White, RSPCA senior scientific officer in wildlife, explained in a statement. "Exotic pets such as corn snakes, have increased in popularity and the RSPCA do receive a high numbers of calls about reptiles."
The snake was unharmed and safely transported to a specialist, where it will remain until the RSPCA locates its owner. The RSPCA shared the odd story to remind residents to be responsible pet owners, cautioning them about taking on exotic animals such as the corn snake as pets if they don't feel like they can provide proper care.
GIANT ALLIGATOR NEARLY THE SIZE OF A CAR STOPS TRAFFIC ON TEXAS HIGHWAY
"These are amazing animals but they can be challenging to care for properly. We are really urging people to do their research before they take on a reptile, or other exotic animal, as a pet, so they are confident that it is the right pet for them and that they can provide everything the animal needs for its whole life - which could be many years," White said.