US Orders Pro-Russian Militants Out of Ukraine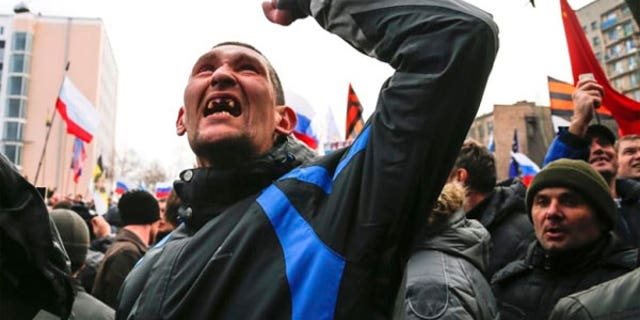 NEWYou can now listen to Fox News articles!
The U.S. demanded Sunday that Russia call off the armed groups that have seized government and police buildings in eastern Ukraine where the first clashes between pro-Moscow militants and Ukrainian forces were reported.
"It has all the tell-tale signs of what we saw in Crimea," Samantha Power, the U.S. ambassador to the United Nations, said in comparing the methods used in the crisis in mostly Russian-speaking eastern Ukraine to those used in Russia's annexation of the Crimean peninsula.
Speaking on ABC's "This Week" program, Power dismissed Russian denials of supporting or directing the armed groups wearing camouflage uniforms without insignia.
"Everything they're doing suggests the opposite," Power said of the Russians.
Power warned that Moscow could face tougher economic sanctions that she said have already brought the value of the ruble to an all-time low.
In a possible attempt to defuse the standoffs in several eastern Ukrainian cities, the U.N. Security Council was meeting last night at Russia's request on the worsening crisis that prompted Russian President Vladimir Putin last week to threaten cutting off gas supplies to Ukraine and Western Europe.
Russian Foreign Minister Sergey Lavrov tweeted Sunday that Ukrainian authorities must "stop war against their people" and asked the Security Council and the Organization for Security and Cooperation in Europe to give "urgent attention" to eastern Ukraine.
Ukrainian officials in Kiev, the capital, on Sunday reported the first casualties in clashes with militants as a column of troops was sent to quell unrest in the town of Slovyansk, about 60 miles south of Donetsk. The officials said at least one Ukrainian state security officer was killed and two others were wounded.
Several Western media outlets on the scene reported no violence in Slovyansk, where pro-Moscow groups have taken over the police station, but said that the clash may have occurred on the outskirts of the town.
In an address to the nation Sunday, acting Ukrainian President Oleksandr Turchinov gave the pro-Russian militants a Monday morning deadline to disarm or face a "full-scale anti-terrorist operation." "The National Security and Defense Council has decided to launch a full-scale anti-terrorist operation involving the armed forces of Ukraine," Turchinov said.
"We will not allow Russia to repeat the Crimean scenario in the eastern regions of Ukraine," Turchinov said.
In a statement, Russia's Foreign Ministry called Turchinov's warning a "criminal order" and urged the U.S. and NATO to rein in the authorities in Kiev.
"It is now the West's responsibility to prevent civil war in Ukraine," the ministry's statement said.
The unrest in eastern Ukraine came as U.S. Air Force Gen. Philip Breedlove, NATO's supreme commander, prepared a set of recommendations on a military response to the crisis. Breedlove was expected to focus on bolstering the defense of NATO members in Eastern Europe and increasing support for Ukraine.
Sen. John McCain, R-Ariz., said that Putin's "actions will be gauged by our reactions." On CBS's "Face the Nation," McCain renewed his call on the Obama administration to speed arms shipments to Ukraine.
"We ought to at least, for God's sake, give them some weapons," McCain said.
The Defense Department's aid to Ukraine has thus far been limited to the shipment of 300,000 Meals, Ready to Eat. Pentagon officials have said that Ukraine's "urgent" requests for arms and other "lethal" aid was still under review and there was no timeline for a decision.
NATO Secretary General Anders Fogh Rasmussen said that the violence in eastern Ukraine was aimed at destabilizing Ukraine as a sovereign state.
"The reappearance of men with specialized Russian weapons and identical uniforms without insignia, as previously worn by Russian troops during Russia's illegal and illegitimate seizure of Crimea, is a grave development," Fogh Rasmussen said in a statement.
On Saturday night, the White House announced that Vice President Joe Biden would go to Kiev on April 22 to show support for the new government.
"[Biden] will also meet with various Ukrainian people to hear their aspirations and deepen the partnership between the United States and Ukraine," the White House said.
-- Richard Sisk can be reached at Richard.Sisk@monster.com.