Twitter boots Guccifer 2.0 and DCLeaks after Mueller indictment
Twitter on Saturday kicked off two accounts, Guccifer 2.0 and DCLeaks, that were connected to the 2016 hack of the Democratic National Committee and the leak of stolen documents.
Axios reported the suspension of the accounts, which comes after the U.S. Department of Justice on Friday said that 12 Russian military officers have been indicted on accusations of interfering in the 2016 U.S. presidential election.
Both accounts were active during the election cycle—Guccifer 2.0 was also suspended once in 2016—and spread a range of documents that showed some of the backroom happenings at the DNC. At times, the leaks influenced the news cycle during the heated campaign's final months.
TWITTER PURGE MEANS FEWER FOLLOWERS FOR TRUMP, OBAMA, JUSTIN BIEBER
According to the 29-page indictment, the Department of Justice linked two Russian intelligence officers to Guccifer 2.0: Aleksandr Vladimirovich, a colonel in the Russian military, and Aleksey Aleksandrovich Potemkin.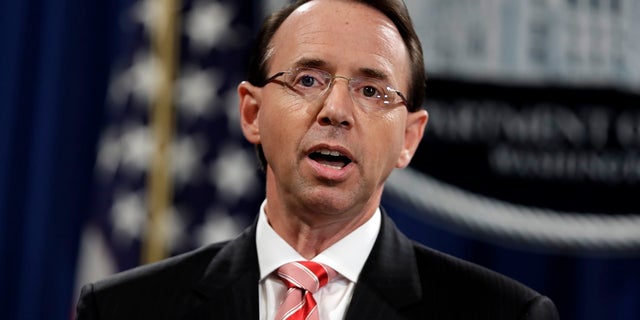 The indictment also says the people who maintained the account offered documents to reporters and communicated with a person who was "in regular contact with senior members of the presidential campaign of Donald J. Trump."
Trump has long denied there was any collusion between his campaign and Russia—and has referred to Special Counsel Robert Mueller's investigation as a "witch hunt."
A spokesperson for Twitter explained the recent bans by telling the San Diego Tribune, "The account has been suspended for being connected to a network of accounts previously suspended for operating in violation of our rules."
Twitter has come under fire from critics for being too slow to ban those who may have enabled foreign actors to interfere in American politics, as well as generally ridding the platform of bots and fraudulent accounts.
The Silicon Valley company determined early this year that at least 1.4 million users engaged with some type of Russian propaganda on Twitter prior to the election.