Tony Hawk teams up with 'The Super Slow Show' in YouTube's latest original series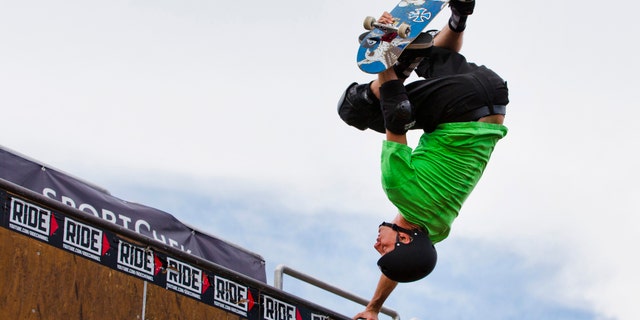 NEWYou can now listen to Fox News articles!
"The Slow Mo Guys" YouTube channel began as a humble way for its creator, Gavin Free, to obtain a work visa in the United States, but it has since become a major Internet success story -- so much so, that YouTube has launched a new show based on the channel that features celebrities like skateboarding legend Tony Hawk.
Free and his co-host Daniel Gruchy, who are both from the United Kingdom, star in "The Super Slow Show," which debuted in late January on YouTube's ad-supported service.
"Usually, I would say in our videos [The Slow Mo Guys] I have to go to the shop and maybe buy some things from Home Depot or something like that, put it together in the back garden," Gruchy said. "But for this, we've got people building huge rigs, massive setups. So, it's going to be a different feel in that way."
APPLE MUSIC ON TRACK TO OVERTAKE SPOTIFY, REPORT SAYS
"The Slow Mo Guys" started in 2010 with the two friends, Free and Gruchy, shooting videos in slow motion on a pair of highly expensive HD cameras with a twenty-dollar budget in Gruchy's backyard – filming everything from hitting Jell-O with a tennis racket to firing a gun underwater at 27,000 frames per second.
"The reason I am in the show is because I guess, Gavin had the camera and we used to mess around on the weekends," Gruchy said. "We knew each other because we went to the same school and we worked at the same supermarket and we sort of became friends."
But that wasn't the only reason, as Free said Gruchy was the one friend who was "always up for anything."
TECH Q&A: EAVESDROPPING ECHO, FLAMMABLE LAPTOPS, SWITCHING TO ANDROID AND MORE
"I don't think I could've gone up to any of my other friends and been like, 'hey can I throw a football full of water at the side of your head and film it?'" said Free. "Dan is the one person I know who was going to be like, 'yeah absolutely, let's do it.'"
The new show is much more elaborate -- fully equipped with a crew, a set and a much larger expense sheet.
"Making the show typically in the back garden, there was no crew, it was just Dan and myself – I would operate all the cameras. And, a lot of the time it was just the two of us just stood in front of several unmanned cameras," said Free. "So, it was nice to actually improve the overall feel of the show, by having better cameras to film the regular speed stuff and also having people to hold them."
STREAMING KNOCKOUT: BOXING FAN PAYS MASSIVE BILL AFTER FRIEND STREAMED FIGHT ON FACEBOOK LIVE
The duo's new original features an array of celebrities, athletes and scientists breaking down their craft in extreme slow motion using two Vision Research Phantom high-speed cameras -- capable of shooting over 343,000 frames per second -- that were originally designed for the military and scientists conducting ballistic research, Free said.
In the latest episode, legendary skateboarder Tony Hawk stepped in front of the high-tech cameras to explore the power of slowing things down.
"It was a little bit nerve-racking because I couldn't decide what trick I wanted to do," Hawk said. "Should I do something that's extremely hard that might take too long to do, you know what I mean? Or, something that's more basic? And so, that was already giving me anxiety, but I was honored that they wanted to include me."
Hawk finally settled on a "heel flip body barrel melon grab backside," a trick Free said "he hadn't done that many times in his career."
"So it took him a few times to get it. But, watching it back with him and listening to him talk about everything he is doing in literally a split second, was phenomenal," Free added.
After watching the playback break down his fancy footwork with the board, Hawk said he didn't realize how captivating everyday things can be when they're in slow motion.
"I never noticed the nuances of how I set up my speed and the actual takeoff, so vividly. So much of what I do is based on feelings, and not necessarily the visuals," he said. "I think that the most basic physical things that we do, or that we take for granted, are incredibly compelling in slow motion. Skate tricks aside, … technology has come so far that it's incredible to see everyday things slowed down."
Although Hawk, with a laugh, said he would be hesitant to utilize the technology if he were still competing because it "might have been too much information to process."
Free and Gruchy's new show will feature daily uploads over the course of twelve weeks, which is much more than their regular channel upload rate.
"The Slow Mo Guys" channel has over 10 million subscribers, and "The Super Slow Show" is the latest in a series of originals YouTube has invested in on its free ad-supported side, compared to its subscription-based YouTube Red service.