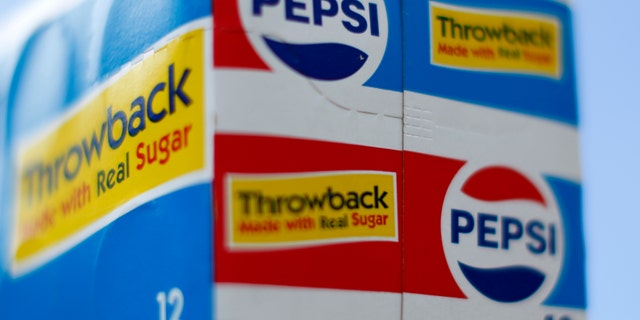 What do guitar amp maker Marshall and construction equipment company Caterpillar have in common? They've both for some reason or another released branded smartphones. Now, you can add beverage conglomerate Pepsi to that not-so-exclusive list: a spec sheet leaked on Chinese social network Weibo shows the P1, a mid-range Pepsi-branded Android phone bound for overseas markets.
Like Marshall and Caterpillar before it, Pepsi seems to be betting on brand recognition rather than beefy hardware. The P1 features a 5.5-inch, 1,080p display, an unspecified 1.7GHz processor, 2GB of RAM, 16GB of onboard storage, and a 3,000 mAh battery. It's got a 13-megapixel rear-facing shooter and 5-megapixel front camera, and leaked images seem to show capacitive buttons beneath the screen (back, home, and multitasking) and a fingerprint sensor around back.
Just what makes the P1 uniquely "Pepsi" isn't obvious, except for the color scheme. The leaked renderings show a home screen background featuring Pepsi's signature red, white, and blue logo, and the phone's reverse sports an embossed logo beneath the camera. But that appears to be the extent of customization.
Related: Is the world ready for a Pepsi Phone?
Branded handsets are obviously trendy, but Pepsi and smartphones seem like a particularly unintuitive pairing. Marshall's effort at least sports features most people would identify with the company's history and expertise -- the Marshall London sports twin headphone jacks and a dedicated audio chip. Caterpillar's phone, appropriately enough for a construction equipment company, features a ruggedized design. The Pepsi P1 by comparison seems pretty homogenous.
One thing the P1 will have going for is price, apparently. The leaks show a 1,299 yuan price point -- about $205.
Pepsi confirmed the P1 to Reuters Tuesday, but declined to share specifics. If there's more to the P1 than meets the eye, we'll find out as soon as October 20 -- the rumored announcement date. Here's hoping for a Crystal Pepsi dispenser, a body crafted from Pepsi-can aluminum, incredibly good waterproofing, or any combination of the three, really.