The Browser Wars Are Back! New Versions of Firefox, IE, and Chrome Vie for Your Desktop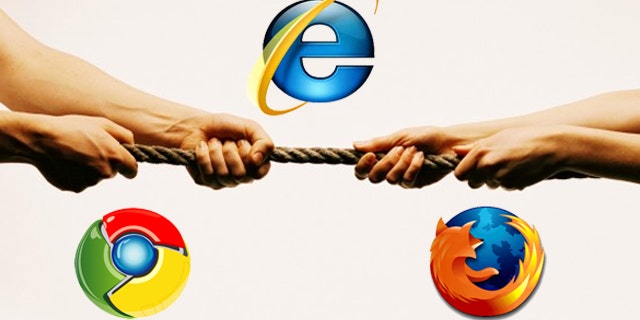 A Web tug-of-war is on -- and your PC is in the middle.
All three major players in web browsing -- Microsoft, Mozilla, and Google -- are releasing important updates to their software to coincide with the popular South by Southwest (SXSW) conference next week. This triumvirate commands more than 90 percent of the market, according to StatCounter.
Longtime king of the hill Internet Explorer maintains its lead with 45 percent. Firefox is hot on its heels, with 30 percent and growing.
Each new release looks to gain an edge in the fiercely competitive marketplace. But which will you choose? Here's what to expect from the new versions.
Internet Explorer 9
Microsoft announced Wednesday that it would officially launch its next web browser, IE 9, on March 14, 2011. With this new launch, the tech giant plans to create "a more beautiful Web."
"On Monday, March 14, we will celebrate the developers and designers who are making a more beautiful web for all of us," Microsoft program manager Ryan Gavin wrote in a blog post. "It's a party you won't want to miss."
This latest iteration sports a cleaner, more minimal look while getting upgrades under the hood as well. JavaScript functionality has been cleaned up and hardware-accelerated graphics support will be included -- meaning an all-around boost in surfing speeds.
The browser also comes with a few slick new features that make browsing easier. Pinned Sites is a neat trick that lets you lock a specific site to the Windows Taskbar. This is especially useful for sites you keep open all day, such as Gmail.
Another is One Box, which turns IE's usual address bar into a multifunctional search field that can be set up to work with Bing, Google, Wikipedia, Amazon, and Facebook among others.
Perhaps most interesting though is a "tracking protection" function, a privacy feature that lets users select which websites to block from gathering information.
IE has been a lynch pin in the industry for more than a decade, ever since it usurped Netscape Navigator as the premier browser in town in the late 90s. Its grip has been strong ever since, though newcomers have chipped away at its dominance as development on the browser stagnated and Microsoft was chastised for not fully respecting web standards.
As such, the IE 9 release is a big comeback moment for Microsoft, which looks to stop the bleeding and revive the browser's lead.
IE 9 will run on Windows Vista and Windows 7. Surprisingly, Windows XP will be excluded from the mix.
Firefox 4
Mozilla on Wednesday unveiled the Firefox 4 release candidate, the final checkpoint before the company officially launches its next-generation browser this month.
The update represents a major revamp for Mozilla's browser, especially after a difficult eight months of development in which more than 8,000 software bugs were fixed. New features include a new plug-in architecture called JetPack, a refined user interface, and improved JavaScript performance.
The developers also took the time to make tabs more efficient, allowing users to group multiple tabs together through a process called Panorama. Also, users will have the ability to sync settings, passwords, bookmarks, history, open tabs, and other customizations across numerous devices -- all data neatly kept secure.
Like IE 9, Firefox 4 will include a "do not track" option that automatically notifies websites to opt-out of tracking for targeted ads.
Firefox was the first browser in years to seriously challenge IE's dominance, and as such, it found consistent growth for many years. More recently, Mozilla has been feeling the heat from Google. Chrome's focus on speed and performance has been enough to encroach on Firefox's territory.
To combat the Chrome competition, Mozilla execs have decided that Firefox 4 will be the browser's last major upgrade as it transitions to a more continuous upgrade schedule.
Chrome 10
Google recently launched a new version of Chrome that includes new sync features and promises JavaScript speeds that are 66 percent faster.
It also comes with a refined interface. "We realize that speed isn't just about pure brawn in the browser -- it's also about saving time with simple interfaces," Google announced in a blog post. "Chrome's new settings interface will help you get to the right settings quickly so you don't have to dig endlessly to find a way to import your bookmarks or change your browser's home page."
The new version also beefs up security by adding Adobe Flash Player to a protection system known as "sandboxing," a feature that prevents malware from interacting with the rest of your system.
Chrome updates are often more evolutionary than revolutionary given the number of updates Google releases everywhere, a model that Mozilla will soon adopt.
A recent entry into the browser space, the Chrome brand was founded on speed and security, aided in no small part to Google's dominance in search as well as the growing prevalence of the Android mobile processor.
So, which is best for you? That ultimately depends a lot on personal preference. But one thing is clear -- with each new browser promising speed boosts, bug fixes and new features, they're all major updates.