The best laptops to buy this summer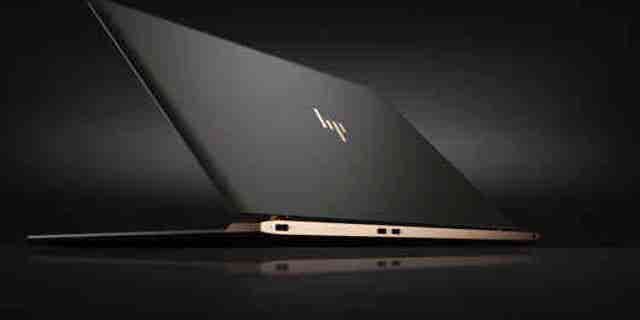 NEWYou can now listen to Fox News articles!
The top laptops this summer have both beauty and brawn— and enough battery life to keep you mobile all day in most cases. Here are our top picks.
Best all-around consumer laptop: Hewlett-Packard Spectre series. Both the 13.3-inch HP Spectre x360 and HP Spectre are high-quality, all-aluminum designs that every PC consumer should at least consider.
The naming scheme can be a little confusing, but the newest is the HP Spectre (without the x360 suffix). In addition to aluminum, this line adds carbon fiber to the chassis. HP claims that the Spectre is the "world's thinnest" laptop. Whatever the case, it's extremely sleek at only .4 inches and 2.45 pounds. Aesthetically, it's a stunning design. The Spectre boasts both a good display and snappy performance despite its ultra-thin build. A standard configuration comes with a high-performance 6th-generation Intel Core i7 processor, 256GB of solid-state storage, a 13.3-inch 1,920-by-1080 display, USB-C ports, and 8GB of RAM. Battery life isn't fantastic, but most users can probably expect six to seven hours. Pricing for the Spectre starts at $1,169.99.
Related: Top 5 tablets to buy this summer
As for the 13.3-inch Spectre x360, this also has jaw-dropping good looks and a high-quality build, as it's based on the same design motif as the Spectre. The biggest differences are a display that can be rotated 360 degrees, an extra-large trackpad, and lower price. A standard configuration for the x360 is offered with specs similar to the Spectre. Battery life is good— expect to get through most of the day on one charge with an average workload. The Spectre x360 starts at $749.99.
Best business laptop: Dell XPS 13 (2016). Dell, perhaps more than anyone, has struck the right balance between size, weight, performance, and battery life. To keep the weight down (about 2.7 pounds), Dell uses generous helpings of carbon fiber in addition to aluminum. And an almost-bezel-less (borderless) display allows Dell to compress a 13.3-inch chassis into dimensions that are closer to a 12-inch laptop. Performance is excellent for an ultra-thin design with configurations that sport high-performance 6th-generation Core i7 processors. Battery life is good. While the high-resolution display version (3,200-by-1,800 pixels) delivers between six and eight hours with average to light workloads and a dimmed backlight, the lower resolution display configuration can last well over 10 hours. Pricing starts at $799.99.
Related: What awesome tech will Apple's new MacBook Pro feature?
Best compact, ultra-light laptop: Apple 12-inch MacBook. This is, in essence, the new MacBook Air, though Apple simply calls it MacBook. It's the new gold standard in ultra-thin, ultra-light laptops. At only 2 pounds (and only 0.52 inches thick at its thickest point) it travels like a tablet. Its single USB-C connector allows expansion with adapters, sold separately. This spring, Apple updated the internals with new Intel 6th Generation processors which, most notably, boast faster graphics performance. Battery life, an Apple métier, can be stretched to between eight and ten hours if you keep the display backlight low and the workload light. The newest version starts at $1,299 but the previous version (physically identical but with 5th-generation Intel processors) is still available from retailers for $999 ($300 off the original price), a good deal because it comes standard with a high-resolution Retina display, 256GB of flash storage, and 8GB of RAM. (With the exception of the 12-inch MacBook, a caveat for MacBooks: all are long-overdue for a refresh/redesign in the coming months.)
Best high-performance laptop: Dell XPS 15 and MacBook Pro. This is always a tough call because there's a lot of top-notch competition, but it's more or less a tie between the 15.6-inch Dell XPS 15 and Apple 15.4-inch MacBook Pro. You can't go wrong with either of these. (Remember, however, that Apple will likely update the MacBook Pro line in the coming months.) Both the Dell and Apple laptops can be configured with quad-core mobile processors, very-high-resolution displays, fast graphics, and both offer decent battery life despite their powerhouse internals. The Dell can go for as long as six hours with the quad-core processor, larger battery option and high-resolution (3840-by-2160) display— and longer with a model with the lower-resolution display. The MacBook Pro can go for as long as nine hours (but note that it has a smaller, lower-resolution Retina display compared to Dell's offering). In both of these cases you have to have a serious need for a high-performance laptop, because they're priced in the stratosphere for quad-core configurations with high-resolution displays. Plan on spending more than $2,000 for configurations with top-notch options.
Related: Should a Chromebook be your next laptop?
Best budget laptop: Chromebook. The increasingly popular Chromebook runs Google's Chrome operating system. With the Chrome OS, you have access to many of the apps that users spend most of their time in, including the Chrome browser, Gmail, Google Docs, Microsoft Office (online), social apps, and YouTube. Chromebooks from Dell, HP, Toshiba, Acer, Lenovo, and Asus are often below $300, with priciest typically under $500. Toshiba Chromebook 2 is a great deal starting at $269. Dell offers a good high-end Chromebook for $429.