Tech Q & A: Tablet security, hoax Facebook links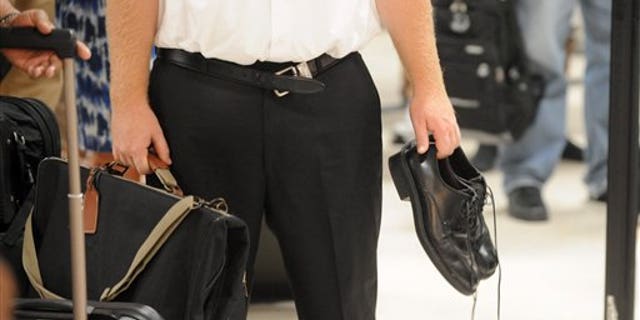 NEWYou can now listen to Fox News articles!
TSA and tablets
Q. I'm flying with a tablet. Do I have to take it out of my backpack at the security checkpoint?
A. Any electronic gadget smaller than a 13-inch laptop can stay in your bag unless the TSA agents tell you to take it out. Even larger laptops can stay in the bag as long as you have a TSA-friendly bag. These are bags that open to let the laptop lie flat on the conveyer belt and have the chargers and other cords off to the side. Learn more about TSA-friendly bags and other tips for breezing through airport security.
Hoax links on Facebook
Q. A friend shared an outrageous headline on Facebook and when I clicked I got a picture of Leonardo DiCaprio saying I'd been tricked. What was that all about?
A. There's a site called URL Online that generates a ton of crazy headlines, such as "Legal Drinking Age in US Goes Up to 23 as of February 2016." If you click, however, you get the message saying you were tricked along with how many people have fallen for it. It's generally harmless, aside from people who don't know it's fake and start heated comment wars based on the headline alone. See the image you get if you click and learn how to spot these links.
Easier expense reports
Q. I need to turn in expense reports for work, but they're such a hassle. Is there an app to make it easier?
A. Take a look at the Expensify app (Apple, Android, Windows Phone; Free). It automatically creates reports from a photo of your receipts or by linking up with your bank account. You can track the hours you worked with a tap, and it also tracks mileage using GPS or with a picture of the car's odometer. It can even generate IRS-guaranteed eReceipts. Learn about four more tools for digitally organizing receipts and other documents for business and personal use.
Send calls straight to voice mail
Q. I have a friend I don't want to talk to for a bit. Is there way to block them or something? I use Android.
A. You can set any calls from someone to go directly to voice mail. First, open up the contact card for whomever you don't want calling. Tap "Edit," then scroll down to Additional Info. Tap the "Send straight to voice mail" option. Learn about four more cool Android tricks, from easier setup of a new phone to saving on your data plan.
Edit photos on the go
Q. I'm the photographer for our family gatherings, and need a way to edit photos on the go so I can share them right away.
A. For simple photo editing, take a look at the Fotor app (Apple, Android, Windows Phone; Free). It has most of the tools you need, plus extra filters, borders and more to make your photos shine. A more powerful editing option is Adobe's new Lightroom app (Apple, Android; Free), which brings you the power of Photoshop on the go. Learn about six more great apps for your Apple gadget.
Bonus: DIY car care
Q. I want to keep my car in good shape but don't have a lot of money for mechanics. What can I do myself?
A. Even with complicated modern cars, there's still quite a bit you can do yourself. There's an interactive site that can help called The Ultimate Guide to Car Maintenance. It walks you through the basics like an oil change, or helps you diagnose problems so you know if they need a mechanic's attention. Click here to check it out.
On the Kim Komando Show, the nation's largest weekend radio talk show, Kim takes calls and dispenses advice on today's digital lifestyle, from smartphones and tablets to online privacy and data hacks. For her daily tips, free newsletters and more, visit her website at Komando.com. Kim also posts breaking tech news 24/7 at News.Komando.com.