Tech gifts to ho, ho, hope for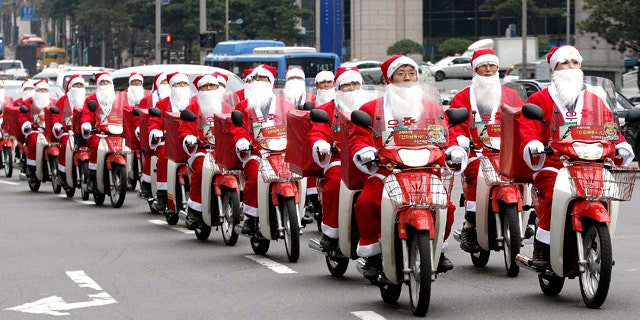 Ever since the robotically cloying Furby appeared, folks have become increasingly gadget crazy, especially during the silly shopping season.
Thankfully, the days when parents tussled over a few fuzzy items in a store are over (although Furby's are still around, 14 years later). However, our infatuation with electronics and high-tech gear hasn't waned. So from the past 12 months, here are some of the nicest--and a couple of the naughtiest--gift suggestions for those gadget hounds in the family.
Nice Tablets
In the obsessive Tickle-Me Elmo category this year are tablet computers, which seem to be like potato chips. You can't stop at just one. Apple's iPad rightfully maintains its supremacy in the market this year, but the sweet spot is in the smaller--and less expensive--7-inch tablet category.
In terms of available apps, tech features, and price, the winner is Google's 7-inch tablet, the Nexus 7. It has a built-in front camera for Skype video calls (and goofy photo taking), a zippy processor, and the latest Android software. It's also got a Goldilocks price of $199.
Honorable mention here for budget-minded book readers who don't want the distraction of apps and Web surfing is Barnes and Noble's $119 Nook Simple Touch with GlowLight. As the name suggests, it has a built-in light for bedtime reading and uses the open book ePub format, so you're not locked into one bookseller.
Nice Phones
The clear leader in smartphones this year is Samsung's Galaxy S III. It has a big, bright screen (but not too big), a slim figure, and every technology gimcrack you could want, including near field communication (NFC) support for the coming wave of mobile payment and wireless options. It's also got better than average battery life and is available on nearly every carrier, including Sprint, starting at $200 (but look for sales).
Also consider the amazingly power stingy Motorola Droid Razr M. Starting at just $50 on Verizon, the phone has a gorgeous screen, 4G speeds, and a battery that won't let you down as soon as the work day is done.
Nice PCs
Desktop computers now seem so 1984. Laptops, ultrabooks, and Chromebooks are now the computers of choice. Ultrabooks, however, can be cramped to work on and Chromebooks work best with a constant wireless connection. A better option is a budget-priced laptop.
The Acer Aspire 5349-2635 is my pick for just $350 (even lower at some stores). It has a legible 15.6-inch screen, a 320 GB hard drive, and an acceptable Intel Celeron processor. Making it more practical for students and travelers, it also has built-in Wi-Fi, an Ethernet port, an HDMI connector, a memory card reader, and a DVD drive (yeah!).
Nice Workouts
A gadget that can help fitness fans and health conscious (or erstwhile health conscious) friends is the Scosche Rhythm Armband Pulse Monitor. It solves one of the biggest hassles of trying to watch your fitness progress and caloric burn: having to wear an uncomfortable chest strap.
The Scosche armband wraps around the owner's forearm and wirelessly transmits one's pulse rate during a work out to an iPhone or Android smart phone. (Not all phones are compatible, so check before you buy.) It's a third of the price of fitness watch and heart rate monitor packages and is one of the first of a new breed of Bluetooth-enabled fitness products poised to appear in stores over the next 12 months.
Disappointingly Naughty
In the pet rock category this year are a couple of technology after-thoughts that were either half baked or astonishingly overpriced. In the latter category is Apple's iPad mini. Starting at $329, it's at least $130 more than comparable tablets yet doesn't offer any new features to justify the price. Strictly for the 1 percenters and Apple fanboys.
The other major disappointment in the technology world this year was Microsoft's Windows 8 software. Generally, a major launch like this sparks frenzied PC buying and excitement over new features (or at the very least some major bug fixes). But Windows 8 requires a steep learning curve without any appreciable pay off. Next year, there will be more devices that take advantage of its touch features. So wait for Windows 8.1.
Follow John R. Quain on Twitter @jqontech or find more tech coverage at J-Q.com.