Tablet wars! New Kindle fire coming, iPad Mini waiting in wings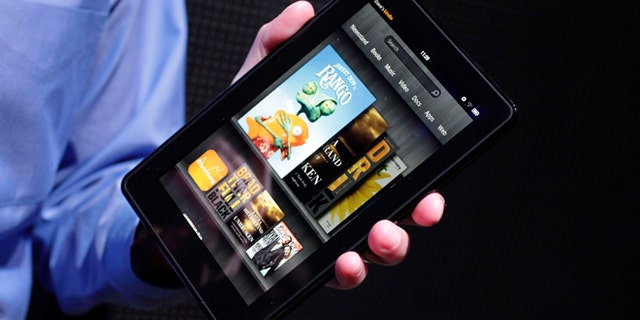 Amazon is kindling a new Fire, Apple is cooking up a mini iPad, and the tablet wars are set to blaze. So which one is right for you?
Amazon.com is expected to unveil a new Kindle Fire on Thursday as it seeks to take a bigger bite of the tablet computer market and boost sales of digital goods like e-books and movies. The announcement at a former airplane hangar in Santa Monica, Calif., will feature CEO Jeff Bezos, who announced the first $199 Kindle Fire in New York less than a year ago.
In the nine months since it began selling in November, the Kindle Fire has captured 22 percent of tablet sales in the U.S., the company claimed last week. Amazon.com didn't divulge actual sales figures, but analyst Anthony DiClemente with Barclays Capital estimates that Amazon sold 7 million tablets combined from November through the end of June.
Its sales amounted to just 5 percent of the global market in the second quarter, however, far smaller than the 68 percent market share for Apple's iPad, and behind the 10 percent share for Samsung's Galaxy Tab, he said.
Apple sold 17 million iPads in the April-June period alone, and more than 84 million since its debut in 2010. To capitalize on that growth, and keep the competition at bay, the company is widely expected to release a new version of the iPad in October -- a smaller one, likely carrying a somewhat smaller price tag.
The new "iPad Mini" is expected to help Apple fend off cheaper tablets with smaller screens, notably the new Kindle Fire. An entry-level iPad 3 (or "the new iPad," as Apple insists on calling it) with 16GB of storage space and lacking a 3G wireless connection sells for $499. Models rapidly run as high as $829.
The Kindle Fire is half the price of Apple's cheapest iPad -- the older iPad 2, which starts at $399. It also has a smaller screen, lacks a camera and only connects to the Internet over Wi-Fi.
A newer model might resolve some of these shortcomings. Amazon is also expected to offer a new lineup of Kindle e-readers, which have screens that render images and text in black and white and sell for as little as $79.
But Amazon isn't the only competitor.
In July, Google began shipping its $199 Nexus 7, a tablet that is about the same size as Kindle Fire but boasts a better quad-core processor, compared to the dual-core brain in the Kindle Fire, a camera and an updated version of the Android operating system.
And on the high-end, Microsoft will start selling its Surface tablet / hybrid gizmo in October, though the Windows giant has yet to announce a shipping day or price tag. The Surface has a screen that is 10.6 inches diagonally; a clever keyboard integrated smoothly into the case; and runs on the Windows 8 operating system.
Prices are expected to be more in line with the iPad.
The Associated Press contributed to this report.