T-Mobile's CEO is trolling Verizon on Twitter after its earnings miss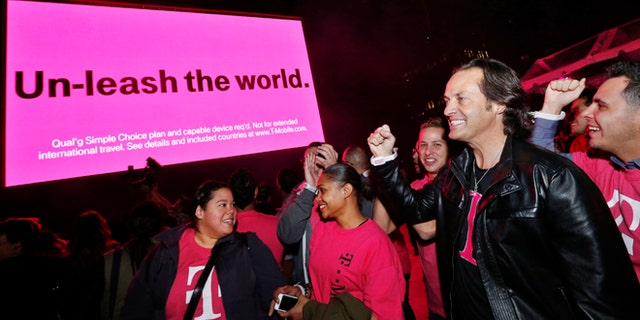 Ever the loquacious executive, T-Mobile CEO John Legere is trolling Verizon on Twitter after its most recent earnings report.
T-Mobile and Verizon -- along with Sprint and AT&T -- have been locked in a battle for years, trying to outduel each other for phone subscribers. The consummate salesmen and marketing whiz, Legere has never failed to miss the opportunity to poke fun at his rivals, going so far as to make fun of them on social media.
@RogerWCheng Total disaster will happen when people realize Verizon network can't handle unlimited... (pssst... it's already happening)

— John Legere (@JohnLegere) April 20, 2017
New York-based Verizon said it earned 95 cents a share on $29.814 billion in revenue for the first-quarter, missing estimates of 96 cents and $30.487 billion in sales.
PRIVACY ACTIVISTS WANT TO SELL TRUMP'S BROWSING DATA
The company also noted that retail postpaid subscribers -- the most lucrative for a telecom -- fell by 307,000 during the quarter, including 289,000 phone losses.
Verizon has struggled to keep up with T-Mobile's recent marketing promotions in an effort to win subscribers. Earlier this year, Verizon unexpectedly brought back unlimited data plans, after having ditched them a few years ago, in an effort to match its competitors' offerings.
Shares of Verizon were down 2 percent to $47.94 in early trading, approaching the 52-week low of $46.01.