Swiss Daredevil to Attempt Grand Canyon Stunt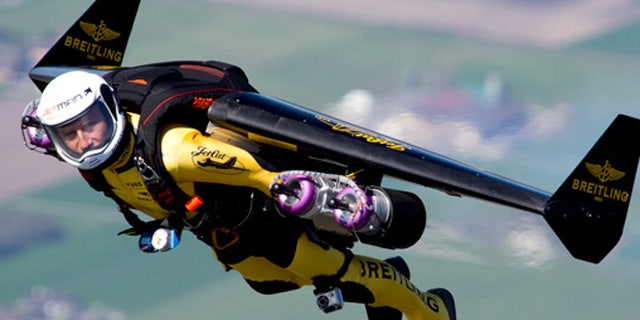 FLAGSTAFF, Ariz. – A Swiss adventurer who has flown his jet-propelled wingsuit over the Swiss Alps and across the English Channel hopes to fulfill a dream by flying through the Grand Canyon.
Former fighter pilot Yves Rossy plans to attempt the stunt early Friday, though he has not yet secured the necessary approvals from the Federal Aviation Administration.
If those approvals come through in time, the 51-year-old daredevil will jump from a helicopter near Eagle Point on the Hualapai Indian Reservation and fly for 15 minutes westward along the rim of the canyon — marking his first U.S. flight in the custom-built suit.
Rossy approached the National Park Service with the idea to soar over the Grand Canyon but was turned down. Instead, he'll fly from the Hualapai reservation that lies west of the park boundaries.
The reservation has become a draw for stuntmen like Rossy, who calls himself the "JetMan."
Robbie Knievel jumped a 200-foot-wide chasm of the Grand Canyon with his motorcycle there in 1999, clearing a gorge 2,500 feet above the canyon floor. Illusionist Criss Angel was shackled and locked inside a crate that was suspended over the edge of the Grand Canyon and 4,000 feet above the Colorado River last May.
"We have a very unique opportunity to offer people experiences that can't happen anywhere else on earth," said Robert Bravo Jr., chief executive of Grand Canyon Resort Corporation, the Hualapai Tribe's business arm. "When we engage in projects like the JetMan, it does generate interest at Grand Canyon West. It's a reminder that this is a special place."
The FAA has determined that Rossy's jetsuit doesn't qualify as an ultralight aircraft because it holds more than 5 gallons of fuel and travels faster than 62 mph. The administration said it likely would be categorized as an experimental or exhibition aircraft that requires an airworthiness certificate.
Rossy also has to conduct between 25 and 40 hours of test flights over an unpopulated area to get the final OK.
Dick Knapinski, a spokesman for the Oshkosh, Wis.-based Experimental Aircraft Association, said it would be unusual for those elements to come together in such a short time frame but it's doable.
"It all depends on the leanings of those at FAA, and also those in Washington (D.C.) headquarters to coordinate that, and say 'this is a priority,'" he said. "There certainly is a fascination with the flight to take place."
Rossy's jetsuit has developed over the years from an inflatable wing though at least 15 prototypes. He typically puts it on his back, turns on the engines and jumps out of a plane before the wing stabilizes. Navigating by sight and steering with his body, the flights come to an end when he runs out of fuel and opens a parachute.
He's admittedly had some blunders.
He once tried to cross the Strait of Gibraltar from Morocco to Spain with the jetsuit but ended up in the Atlantic after hitting turbulence and thick clouds.
From the launch site at the Grand Canyon, he'll have a 360-degree view of the massive gorge and a rock formation that looks like an eagle, soaring thousands of feet above the Colorado River.
It's the kind of stunt that the National Park Service doesn't allow in its boundaries, though there's been no shortage of proposals — from celebrities hitting golf balls off the rim to rocket launches over the canyon. Knievel's father, Evel Knievel, once talked about wanting to jump the Grand Canyon but never made the attempt.
Those activities, as well as what Rossy is attempting, don't fit within the Park Service's mission, said Grand Canyon spokeswoman Maureen Oltrogge.
"That's not why they (visitors) come to Grand Canyon National Park," she said. "It's a world-renowned heritage site and a national icon."