Swapping an iPhone for a BlackBerry made me appreciate the physical keyboard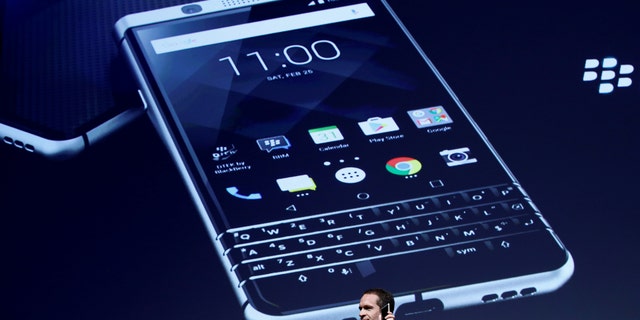 NEWYou can now listen to Fox News articles!
Once upon a time, the touchscreen didn't exist on smartphones. There was only an alphanumeric keypad, or a miniature version of a full keyboard on devices like a BlackBerry. If you conducted every part of your life via email, and needed to type at lightning speed, then a BlackBerry was likely by your side.
I never saw the attraction, and went straight from an alphanumeric keypad to a touchscreen without a thought. As we know, after a (very) rough patch, BlackBerry is back with the same strong ideals and a compelling phone package that catapulted its name to fame a decade or more ago. Including the return of what made it famous in the first place: The physical keyboard. It's about to release a follow-up to that phone, the BlackBerry KeyOne, which last year got BlackBerry fans all sweaty under their collar and ties.
The upcoming KeyTwo will turn more heads. But what if you're like me and a physical keyboard newbie? Is that physical keyboard the typing nirvana grizzled smartphone owners make it out to be — offering speed, tactility, and precision? Should you and I, touchscreen typists, be tempted to give it a try?
Muscle memory
I purchased my first smartphone, an HTC Touch, in 2007, which means I've been typing on a touchscreen for more than a decade. Transferring my mobile activity over to the KeyOne, the phone used in this experiment, was exciting. It just looks so different. The phone is incredibly solid, with real heft and weight, something made more noticeable in your hand because the keyboard is very low-slung. It's close to the bottom of the KeyOne's body. Put it next to an iPhone X, and the entire keyboard takes up the same space occupied by only the two lowest rows of the touchscreen keyboard.
This is obstacle one, the first of several on the journey to typing properly with the KeyOne, and all are related to muscle memory. Just holding the phone in preparation to type feels different, and you must readjust your grip straight away. It's harder than it sounds too, and even after several weeks typing on the KeyOne, my fingers and hands haven't naturally adjusted to the way the KeyOne needs to be cradled. Oddly, it's the pinky finger that's the problem. It usually acts as a support under a touchscreen phone; but the KeyOne's low keyboard makes this impossible.
Eventually, I settled into resting the phone on two fingers with my right hand, and gripping it almost like a game controller with the other. It's not what I'd call comfortable, and I still shift the phone around trying to find a more natural position; but it works. My thumbs were the next problem. They didn't seem to bend in the right way, and actually pressing down keys obviously took more effort to do than tapping a piece of glass. It's more the angle of the middle knuckle that's new, as pressing the keys is performed with the tip of your finger, rather than the pad.
After a few days adjusting to the shape of the phone, the angle of my thumbs, and settling into holding the phone "properly," it was time to start typing at the 60-plus words-per-minute I'd seen people averaging out at on BlackBerry forums.
The need for speed
If I was aiming for 60 words-per-minute, I had a lot of work to do. According to the Typing Speed Test app downloaded from Google Play, my average was 25 words per minute. Carrying out the same test on the OnePlus 6, I averaged about 35 words per minute. On the iPhone X, using a different app, I could manage 48 words per minute. I hadn't set any keyboard on fire with my speed, but I was definitely faster on the touchscreen.
Is that it, the end? Touchscreens forever? No. What surprised me was the accuracy was usually 10 percent to 15 percent higher when typing on the BlackBerry compared to the touchscreen, showing just how much I usually rely on the autocorrect to make my messages not look like they were typed when I was drunk.
Even after a couple of weeks my speed didn't improve much. However, I did get used to using the gestures on the KeyOne, which quickens the message-creation process. Swiping up on the touch-sensitive keyboard to select auto-suggested words is very helpful, and the more you use it, the better it gets at understanding what you may say. It's also handy to swipe to the side to delete words, which I utilized a lot. This was also surprising, having never got used to gesture-based touchscreen keyboards like Swype.
Tactility
Physical keyboards on phones are often trumpeted online as the last word in speed, and this may be the case for those who owned a succession of BlackBerry phones, but its not for anyone used to a touchscreen. This emphasis on speed actually misses the point entirely. Typing on the KeyOne didn't make me faster — it only made me slightly more accurate; but it did feel different, and in a good way.
What people don't always mention about physical keyboards on phones is the pleasing feeling of those tiny buttons under your thumb. There's something wonderfully mechanical about pressing each key in succession. Not in a tedious retro-is-so-cool way, but because it connects you physically to the device more. Not better — it's just a different degree of tactility.
This enjoyment — yes, actual typing enjoyment — was increased by the gestures, whether it was swiping away a misspelt word or sliding up and down to scroll through a webpage, the multifunction keyboard works as a coherent part of the phone, rather than a tacked-on nod to the past, at the risk of romanticizing it too much. Typing on the KeyOne became like pulling down the arm on a slot machine compared to tapping a button to spin. It's a physicality that simply can't be replicated.
Satisfaction
Notice I'm not saying better, or improved upon. It's not that. I type faster on a touchscreen, after all. But I don't derive any satisfaction from doing so. It's a process, or a means to an end. The BlackBerry KeyOne isn't quite so — digital — about it. Has it converted me? Not quite. The lure of a big touchscreen is still too much, and I can bash out messages quicker on it too. However, with BlackBerry telling Digital Trends it has two new phones coming this year that aren't based on the KeyOne or Motion, we're excited to see if one is the rumored Uni, which may have a retractable keyboard and the desirable big screen.
Individuality in the smartphone world is in short supply. A phone with a physical keyboard is genuinely unusual, and what we want to do here is encourage you to give the KeyOne or forthcoming KeyTwo a try. Not because of any possible typing speed improvement, but because typing in a BlackBerry keyboard today is so delightfully unique.