Submarine breakthrough: MIT develops wireless system to let subs communicate with planes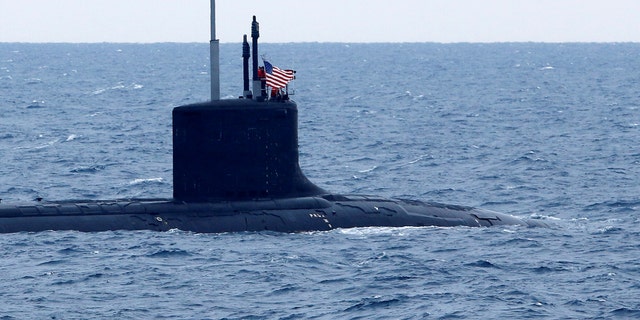 Researchers at MIT have developed a system that helps solve a longstanding problem in wireless communication – how to send data directly from a submarine to a plane or drone.
"Today, underwater sensors cannot share data with those on land, as both use different wireless signals that only work in their respective mediums. Radio signals that travel through air die very rapidly in water," explained MIT, in a statement. "Acoustic signals, or sonar, sent by underwater devices mostly reflect off the surface without ever breaking through. This causes inefficiencies and other issues for a variety of applications, such as ocean exploration and submarine-to-plane communication."
MIT Media Lab scientists detail their research in a paper being presented this week at the SIGCOMM conference in Budapest, Hungary. The researchers have used an underwater transmitter that directs a sonar signal to the water's surface, which causes tiny vibrations corresponding to the "1s and 0s" transmitted in binary data. "Above the surface, a highly sensitive receiver reads these minute disturbances and decodes the sonar signal," they explain, in a statement.
MH370 DISASTER: HOW NEW SPACE TECH CAN KEEP TRACK OF AIRCRAFT
The Media Lab aims to promote "the unconventional mixing and matching of seemingly disparate research areas."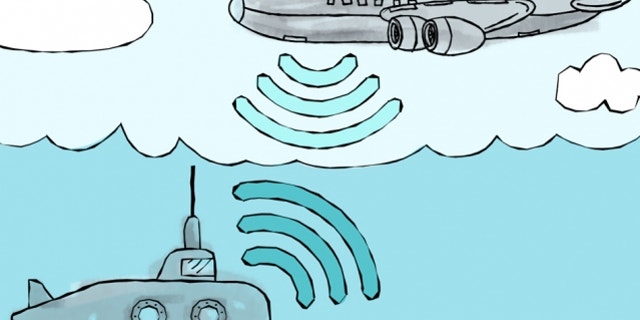 Although the system, dubbed Translational Acoustic-RF Communication (TARF), is still in its relative infancy, it could have potential for both the military and ocean research.
"Using the system, military submarines, for instance, wouldn't need to surface to communicate with airplanes, compromising their location," explains MIT. "And underwater drones that monitor marine life wouldn't need to constantly resurface from deep dives to send data to researchers."
STERN OF US WW II DESTROYER DISCOVERED NEAR REMOTE ALASKAN ISLAND: SURVIVOR RECOUNTS HARROWING DAY
There are drawbacks to current systems used to deal with the underwater communication problem. Buoys, for example, have been designed to pick up sonar waves, process the data, and shoot radio signals to airborne receivers, according to MIT. The buoys, however, can drift away and get lost and large numbers are required to cover large areas.
The system could also help in the search for planes that go missing at sea. "Acoustic transmitting beacons can be implemented in, say, a plane's black box," said Fadel Adib, an assistant professor in the MIT Media Lab, who is leading this research. "If it transmits a signal every once in a while, you'd be able to use the system to pick up that signal."
The disappearance of Malaysia Airlines Flight 370 more than four years ago has thrust a spotlight on technologies that could potentially help with aircraft tracking and the location of undersea crash sites.
Adib co-authored the paper with MIT graduate student Francesco Tonolini. The research was supported, in part, by the National Science Foundation.
Follow James Rogers on Twitter @jamesjrogers