Startup unveils 16-lens camera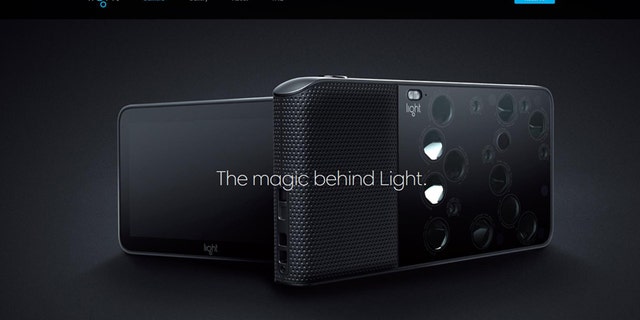 NEWYou can now listen to Fox News articles!
A new camera company has unveiled a look at how it seeks to harness the power of technology to further digitally disrupt the consumer camera business. Startup Light is targeting what it sees as a $25 billion global, high-end photography market.
The Palo Alto, Calif.-based company says that its L16 camera condenses the same zoom and picture quality as several interchangeable analog lenses for DSLR cameras into a pocket-sized device. The company's co-founder, CTO Rajiv Laroia, says that he made a breakthrough in his studies to create a so-called computational camera.
"It's a continued theme of the digitization of the world," asserts Dave Grannan, another Light co-founder and the company's CEO.
Related: 6 top features of the new Apple iPhone 6s
The camera can be preordered on Light's website for $1,299 and then the price ratchets up to $1,699 closer to its launch next summer.
In an interview with FoxNews.com before Light's launch announcement Wednesday, Grannan explained the camera zooms from 35 mm to 150 mm and features 16 lenses, with 10 of them firing at multiple focal lengths simultaneously for any given picture you shoot to create one single image of up to 52 megapixels. The software also allows for adjusting shots for depth-of-field or other functions later.
The L16 includes red-eye correction, LED flash, Wi-Fi on board, integration with social media sites and major instant printing software.
Light not only seeks to end blurry or out of focus "user error" shots, but true to its name with a weight of less than one pound and just 20 millimeters thick, it aims to eliminate the need for cumbersome backpacks and changing lenses and zooming.
Related: Samsung ramps up smartphone strategy, touts larger curved screen device
Grannan says the real breakthrough is "the technology's radical reduction in size, cost, and weight" versus both DSLR cameras and the mirrorless camera category.
Light executives see this as its point of differentiation. They point to a multitude of surveys they conducted asking camera owners if they own DSLR or interchangeable lens cameras. Grannan says the results were staggering and encouraging for Light, "Half of all people say they don't use [their cameras] anymore. It's always the same reason, [the camera's] too big and inconvenient to use it."
And that convenience factor may be the single biggest hurdle for Light. Analysts say the hardest proposition for the camera technology company is selling consumers on "Why" they have to buy it.
The improved technology in cell phone cameras is a double-edged sword for Light and other camera makers. As the component costs have plunged, profit margins are higher, but those improved components in smartphones have contributed to those DSLR cameras and other models gathering dust as consumers are getting used to carrying just one device.

"As a consumer, I'm required to carry two things in my pocket, my phone and a camera. Historically that has been a challenge," notes Scott Peterson, a camera industry analyst with analyst firm gap intelligence.
But Peterson says photo enthusiasts will "get it right off the bat" and will like the diminutive format giving them "DSLR quality in a point-and-shoot form factor."
Venture Capital investors have seen the Light L16 and invested in it to the tune of about $35 million. And Foxconn, the company that builds Apple's iPhones, has also taken a stake in Light and will build the L16; after it comes to market Foxconn has agreed to license the technology and can put it in cell phones.
Whether it's a waking light for the standalone camera or truly twilight remains to be seen. Either way, Light is hedging its bets via the licensing deal of its technology to Foxconn and looking to other businesses for opportunities. "We have aspirations to go beyond cameras and cell phones and into other verticals," said Light's Grannan. This includes home security cameras and automobiles with cameras fitted into rearview mirrors.
The focus for the L16 is clearly on still shots, but Light plans to shine in video as well. Grannan says the first camera will only shoot video from one camera module at a time but it will be 4K quality with optical zoom up to 150 mm.
While the Light CEO thinks the apparatus will be a good tool for YouTube creators and others making video, he says ultimately "Light should do what all good technology should do - make me a better photographer. A great car should make me a better driver, great golf club technology should make me a better golfer," Grannan laughs and continues, "That may be a reach, but great technology should make our lives easier and make us better at something."