Smart speaker revolution: Why we'll hear much more from Amazon's Echo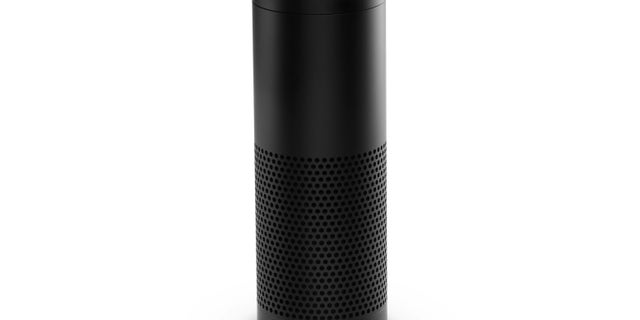 After using her mom's Amazon Prime account, Hannah Blackington decided to set up her own Prime account and take advantage of the Amazon Echo she got for Christmas last year.
Though she's had it for less than twelve months, Blackington is easing into it, asking her Amazon Echo to perform a few basic tasks. "I feel like I use it a lot to play music, hook it up to Spotify, set timers when I'm cooking," she said in an interview with Fox News. "It's basically a glorified speaker."
AMAZON SAYS ALEXA DEVICE COULD NOT CALL 911
Blackington added it's easier for her to use Alexa, Amazon's voice assistant than it is Siri on her iPhone. "Instead of asking Siri, I can say, 'Hey, Alexa' and I don't have to press a button."
While she mainly uses it for simple tasks now, the 25-year-old publicist is getting more comfortable with it and seems likely to utilize the Echo more in her daily life — a trend that is likely to continue over time for many Americans.
Quality is key
According to tech website Engadget, Amazon is said to be working on a next-generation Echo hardware with better sound quality. The new speaker would be released this fall and would be more in line with Apple's HomePod smart speaker (available in December), which Apple says "sounds amazing."
Amazon's current Echo device sells for $179, compared to $399 for the upcoming HomePod. While the Echo has has caused the smart speaker market to explode, reviewers have described its audio quality as good, but not great.
"[A]udio quality continues to be one of the knocks on the entire Echo family (though the Show is an improvement) and no-one would give any Echo device a prize for beautiful design – these are highly utilitarian objects which people give places in their home despite and not because of how they look," Jackdaw Research chief analyst Jan Dawson wrote in comments obtained by Fox News.
When asked about a potential fortcoming device, an Amazon spokeswoman said the company does not comment "on rumors and speculation."
AMAZON MAY LET DEVELOPERS READ YOUR ALEXA CHATS
Explosion of devices coming
Since the days of Dick Tracy talking to his wrist-watch, Americans have talked to their gadgets. But it's only been since 2014, when the Echo was introduced, that the smart speaker market has exploded.
According to data from Global Market Insights, shipments of the devices are expected to surpass 100 million units by 2024.
After the Echo was introduced, others have joined the space. Google unveiled the Google Home in October 2016 and it gave credit to Amazon for creating the market, an almost unheard of move in Silicon Valley. Others working on their smart speakers include Microsoft, (which is bringing its Cortana assistant to Harmon Kardon smart speakers), the aforementioned Apple and Samsung, rumored to be working on its own speaker.
In addition to the Echo, Amazon (which doesn't release Echo-related sales figures) now offers other Alexa-enabled devices, including the Echo Dot, Amazon Tap, Amazon Echo Look and the recently announced Amazon Echo Show.
On Prime Day, Amazon said, "Prime members purchased seven times more Amazon Echo devices globally than on Prime Day 2016," adding that the most popular purchase was the Echo Dot.
PRESIDENT TRUMP ATTACKS AMAZON ON TWITTER, SAYS IT DOESN'T PAY 'INTERNET TAXES'
Benefits of a smart speaker
With smartphones nearly ubiquitous in every part of the world, the obvious question on smart speakers is: "Why do I need one?"For many, it's about making life even easier, in addition to listening to great music.
Developers have steadily added new capabilities to the Echo as more people buy the devices. Alexa, Amazon's voice assistant, will let you do tasks such as ordering an Uber, turnining off the lights, getting the news (Fox News has an Alexa skill, as do several other news outlets) and a host of others. In total, there are more than 15,000 Alexa-enabled skills.
However, Amazon faces stiff competition for speaker supremacy.
At its June developer Apple positioned its forthcoming HomePod device as a speaker capable of doing other tasks, instead of a virtual assistant that also plays music.