Six indicted in StubHub cybercrime case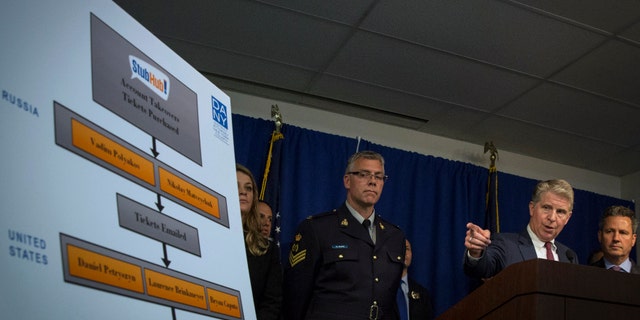 Six people have been indicted in connection to the cybercrime ring which allegedly defrauded StubHub out of $1 million.
The charges, which were announced by Manhattan District Attorney Cyrus Vance on Wednesday, include money laundering, grand larceny, criminal possession of stolen property and identity theft.
The cybercrime ring used a network of accomplices spanning the U.S., U.K., Canada and Russia to transfer proceeds, according to a statement released by Vance's office. More than 1,600 StubHub users and credit card holders fell victim to the scheme, it said.
"Today's arrests and indictment connect a global network of hackers, identity thieves and money-launderers who victimized countless individuals in New York and elsewhere," Vance said in the statement.
StubHub, an eBay subsidiary, discovered that more than 1,000 accounts were compromised by an 'Account-Take-Over' fraud in March 2013. Preexisting card information associated with the accounts was used to purchase tickets without the cardholders' permission. When StubHub reported the fraud and tightened security, criminals bypassed the new security measures using new credit card information stolen from additional victims, according to Vance's office.
The Manhattan D.A's office, the City of London Police, Royal Canadian Mounted Police, the United States Secret Service and the NYPD all participated in the investigation.
"This is an important investigation, targeting cyber criminals who are believed to have defrauded StubHub out of $1 million, by hacking its United States' customers' accounts to fraudulently purchase and sell tickets, and then laundered their criminal profits through legitimate UK bank accounts," City of London Police Commissioner Adrian Leppard said in the statement.