Sinister 'Momo suicide challenge' sparks fear as it spreads on WhatsApp
A sick suicide "game" dubbed "Momo" has been spreading on WhatsApp, prompting police to issue warnings about the shocking challenge.
"Momo" is a viral challenge that asks people to add a contact via WhatsApp - they are then urged to commit self-harm or suicide. The "game" has fueled comparisons to the sinister "Blue Whale challenge" that led to reports of suicides in Russia and the U.S, as well as the online fictional character of "Slender Man." In 2014 two 12-year-old girls in Wisconsin attempted to kill a classmate in an attempt to please the horror character.
The Buenos Aires Times reports that police in Argentina are investigating whether "Momo" is linked to the suicide of a 12-year-old girl in the district of Escobar.
The girl filmed her activities prior to hanging herself from a tree in her family's backyard, according to the Buenos Aires Times. Authorities suspect that someone encouraged her to commit suicide, the report says.
SINISTER 'BLUE WHALE CHALLENGE' BLAMED FOR TEXAS TEEN'S DEATH
The Sun reports that police in a number of countries have voiced their concern about the so-called "challenge."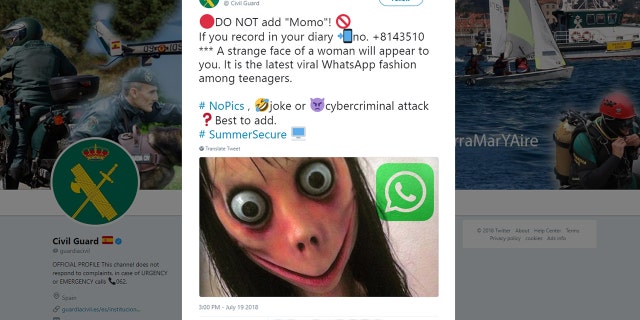 "Momo" is described as similar to the sinister "Blue Whale challenge," which is believed to be a social media group that encourages people to kill themselves, according to the Sun.
"Momo" uses the creepy cropped image of a sculpture depicting a young woman with bulging eyes and black hair, News.com.au reports.
"Don't add 'Momo'!" warned Spain's Guardia Civil in a recent tweet, noting that the game has gone viral on WhatsApp, targeting teenagers.
Police in Mexico say that "Momo" started in a Facebook group where people are encouraged to communicate with an unknown telephone number. Computer Crime Investigators from the Mexican State of Tabasco warn that the game is a "new challenge" aimed at children and young people. "Avoid talking with strangers," it tweeted recently.
"In social networks, the image of a terrifying woman is circulating," add investigators, in a statement. "They call her 'Momo' and she invites those who see her to write to her through WhatsApp."
"Momo" threatens to appear in the night or lay a curse on the users if they do not respond, according to Mexican police. Criminals can use the "game" to steal personal information or even incite users to commit suicide or violence, investigators add.
The creepy "Momo" image was taken from an Instagram account and then circulated on WhatsApp, according to police.
"WhatsApp cares deeply about the safety of our users," a WhatsApp spokesperson said, in a statement emailed to Fox News. "It's easy to block any phone number and we encourage users to report problematic messages to us so we can take action."
Fox News' Nicole Darrah and the Associated Press contributed to this article.
Follow James Rogers on Twitter @jamesjrogers