Shipwreck discovery reveals 'earliest known navigation tool'
A bronze disk recovered from a 16th-century shipwreck has been identified as the earliest known marine navigation tool, according to experts.
Experts at Warwick Manufacturing Group (WMG), which is part of the U.K.'s University of Warwick, harnessed specialist 3D scanning technology to identify the astrolabe, believed to be over 500 years old. Key navigation tools, astrolabes were used to measure the altitude of the sun during voyages.
Measuring almost 7 inches in diameter, the astrolabe was recovered in 2014 from the wreck of Portuguese explorer ship Esmeralda, which sank in the Indian Ocean during a storm in 1503. Part of a fleet led by famed Portuguese explorer Vasco da Gama, Esmeralda was discovered off Oman's Al Hallaniyah island by U.K.-based archaeology specialist Blue Water Recoveries in 1998. Working with the Omani government, Blue Water Recoveries excavated the site in 2014, revealing the historic artifact.
SCIENTISTS DISCOVER 60 ANCIENT SHIPWRECKS IN THE BLACK SEA
While experts suspected the disk to be an astrolabe, the lack of navigational markings on the artifact made it difficult to say for certain. Researchers then approached Professor Mark Williams at WMG to unlock the device's secrets.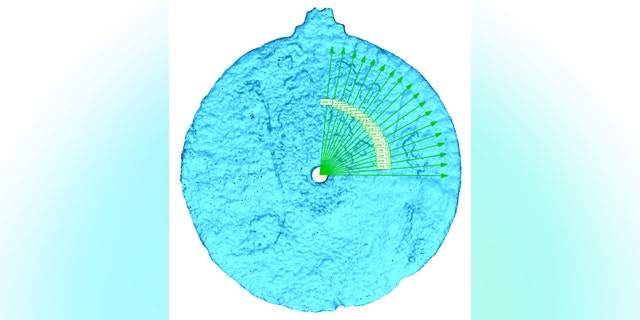 3D scanning technology revealed etches around the edge of the disk, each separated by five degrees, proving that it was indeed an astrolabe. The markings would have allowed sailors to measure the height of the sun above the horizon at noon to work their location, according to a statement released by the University of Warwick.
"It was fantastic to apply our 3D scanning technology to such an exciting project and help with the identification of such a rare and fascinating item," said Williams, in the statement.
EXPERTS DISCOVER 'CHRISTOPHER COLUMBUS' ANCHOR AT CARIBBEAN SHIPWRECK SITE
The astrolabe, which is thought to date from between 1495 and 1500, bears the Portuguese coat of arms and the personal emblem of Don Manuel I, who was King of Portugal between 1495 and 1521.
"It's a great privilege to find something so rare, something so historically important, something that will be studied by the archaeological community and fills in a gap," said David Mearns of Blue Water Recoveries, who led the recovery effort, in a statement. "It was like nothing else we had seen […] it adds to the history, and hopefully astrolabes from this period can be found."
More than 2,800 artifacts have been recovered from the Esmeralda site, according to Blue Water Recoveries.
NEW DISCOVERY HINTS AT STILL FURTHER TREASURES HIDDEN AT FAMOUS SHIPWRECK
Other shipwreck-related discoveries have been in the spotlight in recent months. In May, for example, experts announced that they had used a "space treasure map" to make a remarkable discovery in the Caribbean -- a centuries-old anchor believed to be from one of Christopher Columbus' ships.