School shootings: How Army technology could help save the lives of teachers and students
Teachers will soon have access to advanced Army technology that will help prepare them for active shooters in schools.
The heartbreaking school shooting tragedy in Florida this week has left many wondering what can be done. The question on many minds is 'what if another school shooting occurs?'
Teachers will soon be able to train and prepare to give their students the best chance of survival. Quick action by teachers, and the right action, could potentially save innumerable lives.
Dubbed EDGE (Enhanced Dynamic Geo-Social Environment), the technology was built on Epic Games' Unreal engine and provides a virtual training space. It has been adapted for school staff and first responders to prepare for a shooter.
In EDGE, teachers can learn, practice and master how they can reduce the risks to the lives and maximize the chance of survival for their students.
The Department of Homeland Security Science and Technology Directorate and Army Research Laboratory developed the technology and refined it with data from past school shootings to make the simulations as accurate as possible.
REMARKABLE SELF-HEALING TECH COULD TACKLE INVISIBLE WAR WOUNDS
For the first time, any school and any first responder team, anywhere across the nation will be able to access and learn from top training - and entirely for free.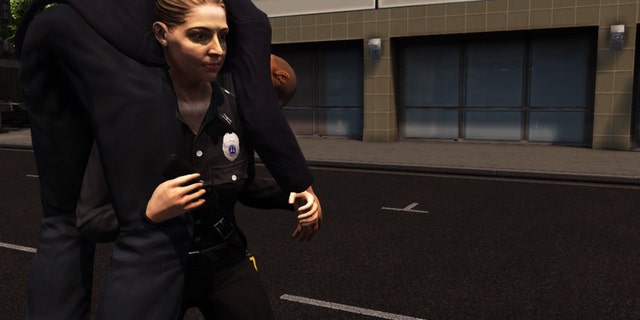 Teachers and first responders will be able to train together to prepare for active shooter situations. Experience can improve survival.
What sort of training will be available?
School personnel can train on what to do as soon as the threat erupts.
In those crucial minutes before law enforcement arrives on the scene, they can learn the best tactics to keep students, and themselves, safe from harm.
Every second is vital and EDGE can show teachers, for example, the best ways to construct barricades and lock doors.
Teachers can also train together with law enforcement on the best steps to take once they arrive.
SPECIAL OPERATIONS DOGS SET FOR NEW ADVANCED TACTICAL GEAR
Law enforcement can work on neutralizing the shooter, but also train on keeping students and teachers safe.
When first responders and school personnel train with each other, they can gain crucial experience working together in advance of an incident.
PODCAST: LEARN HOW TO STOP AN ATTACKER FROM THIS CIA EXPERT
How does it work?
Although EDGE leverages an advanced military gaming engine, it is anything but a game.
It doesn't get more serious than protecting children from violence and preparing to do so.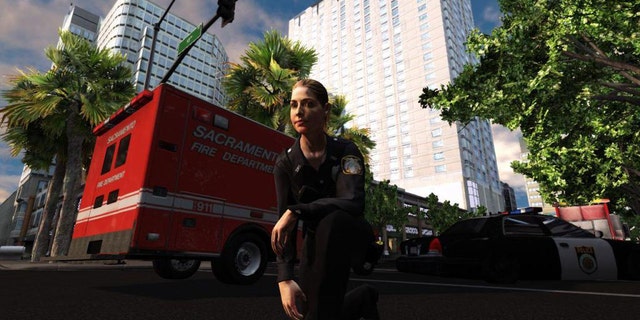 Each user participates with an avatar. They have the opportunity to take on different roles – this could involve a teacher, for example, taking on the role of a police officer, or vice versa.
FUTURISTIC BIONIC ARMS NOW AVAILABLE FOR THE NATION'S BRAVEST
Police officers also have the chance to participate as a student, further enhancing their understanding of active shooter situations.
A one size fits all approach is not good enough. EDGE allows both schools and first responders to tailor best-practice approaches to a specific school.
Who can use the program?
Access to this program will be limited to verified and validated law enforcement agencies and school administrators.
EDGE provides a safe environment for police, firefighters, EMS, dispatch and school personnel to train together.
The virtual training system is not something that people can "play" by themselves and requires a larger group of participants.
Should someone with malicious intent somehow get into this program, it would be pointless and not help them at all. The person would find himself in an empty school structure. There would be nothing to interact with and no other people. No students, no teachers, no law enforcement. No one.
Will students have access?
The program was not designed for students. Teachers and school staff can take what they've learned and perform live drills with students.
THIS FOAM COULD SAVE YOUR LIFE
Similar to fire drills, the school staff could practice what they've learned with protection and escape procedure in drills with the students.
PODCAST: HOW TO ESCAPE A HOSTAGE TAKER WITH THIS SPECIAL FORCES EXPERT
Has it been used before?
The Army has long capitalized on advanced virtual training. When training in person was difficult logistically or expensive, training virtually is a very useful alternative.
EDGE is a modified version of an Army virtual training platform. For threats on the homeland, it was first adapted for training to improve survival in a terrorist attack on a hotel incident.
In the aftermath of the Mumbai attacks in 2008, U.S. officials developed EDGE to help law enforcement to prepare for similar attacks.
More than 500 responder agencies in 48 states have been training on this first EDGE.
HOW INSECT CYBORGS COULD BATTLE TERRORISM
In a hotel setting, EDGE is used for training for active shooter, hostage situations, fire and other incidents.
However, EDGE can be adopted to train for any crisis.
What's next?
Department of Homeland Security expects the school version to be out in the spring. Thus far, there is no specific date.
EDGE would be used as part of a larger training effort and comes with guidance on how to maximize the benefits of training.
When it rolls out, how can teachers and law enforcement gain access? Access will need to be requested. Once verified as a valid law enforcement agency or school system administrator, then access will be provided. The user will have access to both the system and all of the accompanying training materials at no cost.