Samsung wants to transform your white board experience with the Samsung Flip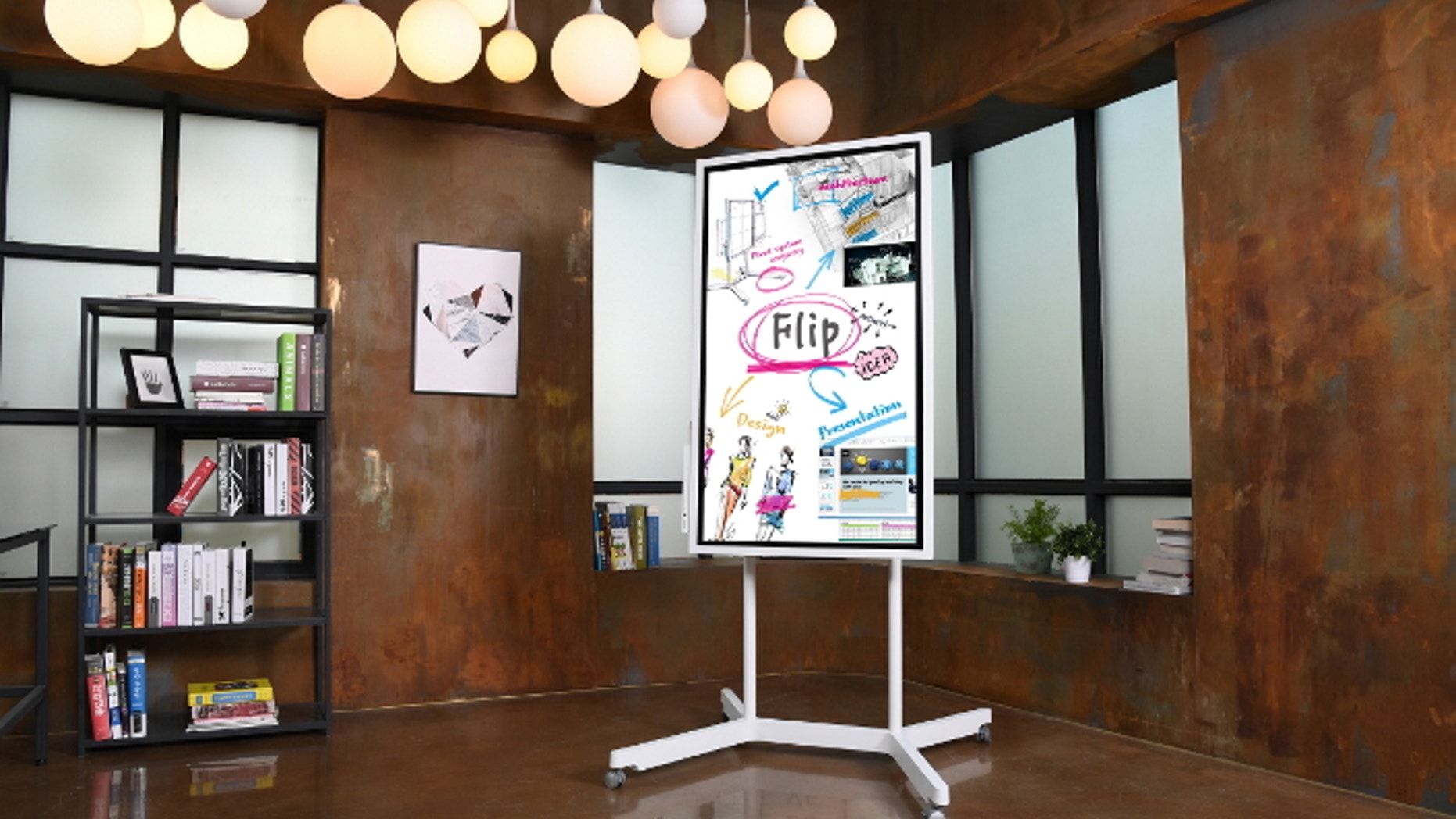 White boards may be a mainstay at startups and tech companies across the country, but just as we tired of dusty chalkboards, we are likely to soon tire of pen-stained white boards, too. Fret not, though — this doesn't mean that the entrepreneurs of the world won't be able to continue throwing their ideas in indecipherable penmanship on walls around the office, but rather that they'll have a more tech-forward way of doing so.
At CES 2018, Samsung Electronics offered up a vision for the "Workplace of the Future," beginning with the new Samsung Flip digital flip-chart display. The new Samsung Flip WM55H promises more collaborative digital learning to help teams organize, facilitate, and recap meetings.
Improving upon both standard flip charts made of paper and analog white boards, the WM55H feels like a familiar board, but is far more advanced. Up to four participants can add content or annotate the screen at the same time, either using their fingers or a special dual-sided pen. All users can customize their writing style, size, and color, and all marks are made more legible with viewer-friendly UHD resolution.
To ensure as much interactivity as possible, Samsung Flip offers device compatibility via wireless connectivity as well as USB, PC, and mobile ports. With screen-sharing features, Flip content is available on connected computers, smartphones, and tablets, all without interruptions or reduced visual quality. Similarly, you can broadcast your own content from an external device onto the Flip display for easy idea sharing.
The Samsung Flip seeks to be as user friendly as possible, which is why erasing is as easy as swiping with your palm, and searching for content is as easy as scrolling back through the rolling stream (which contains up to 20 pages of writing space). All displays can be configured to either portrait or landscape modes depending on your needs, and can either be mounted on a wall or placed on a height-adjustable stand.
Once you're finished using the WM55H for the day, all content is stored within a central database, so you don't have to take a photo to make it last longer. And a password-based protection system will guarantee that only authorized individuals can access information.
"The often-flawed logistics of the modern meeting make it easy for participants to feel disengaged and for vital ideas and discoveries to become lost," said Seog-gi Kim, executive vice president of visual display business at Samsung Electronics. "Today's workers require more powerful and flexible technologies, and we truly believe that our new Samsung Flip display offers endless possibilities for driving impactful collaboration."