Samsung Series 5 Ultra Convertible Hands-On: Ultrabook Screen Bends Back 360 Degrees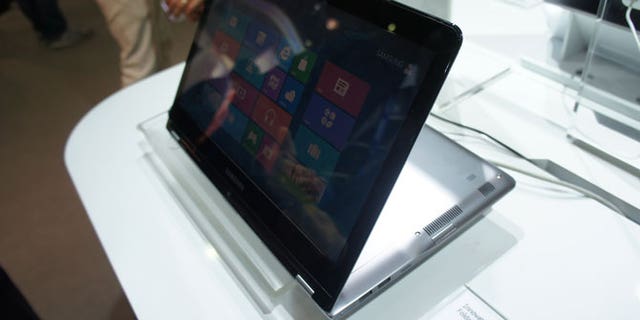 Look out Lenovo, the IdeaPad Yoga has some competition. Today at Computex Taipei, Samsung showed off its upcoming Series 5 Convertible, a 14-inch Ultrabook that, like the Yoga, bends back 180 degrees to become a tablet. We had a chance to go hands on with the Series 5 Ultra Convertible and were impressed with its solid bending mechanism and speedy boot time.
The Series 5 Ultra Convertible is powered by a 1.7-GHz low-voltage third-generation Core i7 CPU, 4GB of RAM and a 500GB hard drive that gets a boost from a 24GB SSD cache. With a body covered entirely in brushed alumnium from lid to bottom, the notebook looks extremly shiny and attractive. Despite its svelte frame, we were pleased to see that the Ultra Convertible packs in 3 USB ports, an Ethernet port that pops open, HDMI out, and an SD card reader.
The 1366 x 768, 14-inch display was responsive to our touches, but the super glossy panel appeared really dim and hard to read under the conventional hall lights. We checked the display settings and it was indeed at maximum brightness so we hope it either looks better in other light conditions or that Samsung gets a brighter panel before launch. By contrast, the IdeaPad Yoga has an incredibly bright, 1600 x 900 screen.
The Samsung Series 5 Ultra's island-style keyboard looks and feels just like those on other Samsung Ultrabooks, which is to say that it has solid tactile feedback. The large clickpad looked attractive, but did not work on the demo model we used. There simply was no pointer on the screen.
When we swiped through Windows 8's Metro UI and browsed in IE 10, performance was smooth and seamless. We were able to shut down the Series 5 Ultra Convertible and cold boot it in just 9 seconds. We were able to wake it from sleep in just 2 seconds.
The bending mechanism felt very solid in our hands. When holding the Series 5 Ultra Convertible, we were able to bend it back 180 degrees into flat table-top mode, back 270 degrees into presentation mode or back a full 360 degrees so it rested against the notebook bottom and became a tablet. While bending it, we noticed that the bottom of the system has a hatch for upgrading the storage drive and RAM, something you don't see on many Ultrabooks.
We're intrigued by what we've seen from the Samsung Series 5 Ultra Convertible, but Samsung warned us that the device we saw was a prototype and there's still a long way to go before it is released sometime later in the year. For now, check out the videos and gallery to get a closer look.