Samsung Galaxy texting bug sends random pics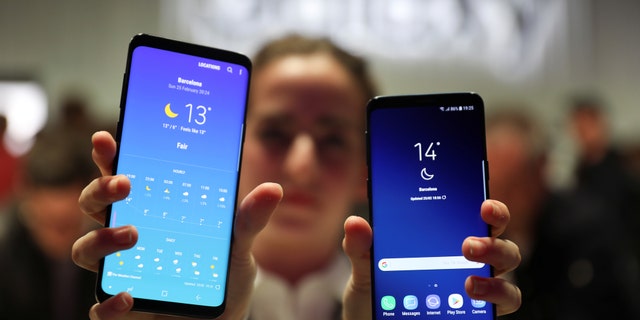 Some Samsung Galaxy phone users are troubled by a messaging glitch that appears to send random photos.
The upshot is, random messages are reportedly being sent via Samsung's default texting app. "If you've got a Samsung phone and use the default Samsung Messages app for all your texting needs, you may want to check your gallery to make sure you don't have any embarrassing photos in it," Android Central reports.
Users have been complaining about the problem on Reddit and Samsung user forums, among other places. The issue was first reported by Android Central.
A Samsung spokesperson told Fox News that the company has found no issues so far.
GALAXY S9 HITS RECORD LOW FOR SALES
One user on a Reddit forum was shocked when his entire photo gallery was sent to his girlfriend while he was sleeping. Another user said that it happened to both his and his wife's phones.
The scary part is, there is no evidence left on the sender's phone messaging app of the photos being sent.
So far, the issues have been reported on the Galaxy S9 and Note 8, two of Samsung's newest phones.
Speculation for one of the causes is centered on RCS, or Rich Communication Services, messaging updates. RCS is expected to eventually replace the traditional SMS text messaging.
SAMSUNG'S NEW GALAXY MAY NOT BE MUCH OF A DISCOVERY
For example, T-Mobile issued an RCS update recently. A user on the Reddit forum said the messaging became "very buggy" after the RCS update on T-Mobile. However, that was for the Galaxy S7 and S7 Edge.
One possible way to avert this is to go to Settings -> Apps -> Samsung Messages -> Permissions -> Storage. Then, disable the permission to access storage, according to Android Central. Another suggested solution is switching from the default Samsung messaging app to the Google messaging app.
"Samsung has reviewed this matter thoroughly these past few days; however, there were no hardware or software issues found to be relevant to this particular case," a Samsung spokesperson told Fox News. "While there have been no known similar customer reports globally, we will continue to investigate this issue further. We encourage any customers who may have questions or concerns to contact their local Customer Service center at 1-800-SAMSUNG."
When asked, T-Mobile said to contact Samsung about the matter.