Samsung 'Galaxy S9' rumor roundup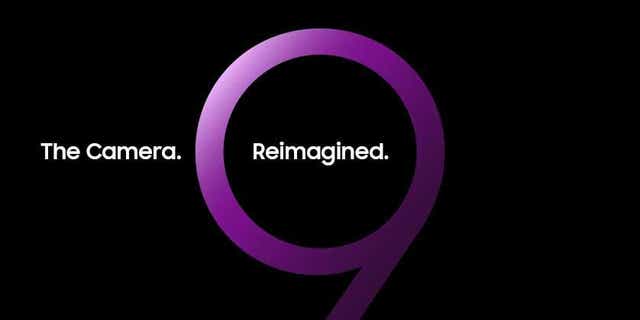 Samsung's next-generation flagship phone is expected next month. Recent reports are providing some particulars on what to expect.
The South Korean electronics giant sent out an invite on Wednesday with the tagline "The Camera Reimagined" against a backdrop of a giant "9." Is that a not-so-subtle hint that the phone will get the S9 moniker? We'll see.
The Samsung Galaxy Unpacked 2018 event will happen on Feb. 252018, in Barcelona, coinciding with the MWC 2018 trade show, according to the invite.
IPHONE X LONG-TERM REVIEW: A BIT OF A LOVE-HATE RELATIONSHIP
Fox News compiled a list of rumors of what the new Samsung phones may offer.
The design
In the scheme of smartphone redesigns, the Galaxy S9 and S9 Plus are not expected to see radical physical changes, according to Venture Beat.
The S9 and S9 Plus models are slated to get 5.8-inch and 6.2-inch displays respectively, Venture Beat added. The website also said that this year "is mostly a component upgrade" and neither the S9 nor the S9 Plus would be "significant departures from their predecessors."
Like the current Galaxy S8, the new phone design will have "extremely" narrow display bezels "with a metal frame and glass back," according to a roundup of expected features from Android Central.
But there may be subtle changes, however. For example, the S9 could have more screen and less less bezel than its predecessor, according to a report at SamMobile.
"All-screen" phones are a major smartphone design trend because the smaller borders result in phones with bigger displays but relatively small overall physical sizes, like the 5.8-inch iPhone X.
The camera and other features
On the all-important camera front, a recent report from Etnews by way of CNET, points to a Galaxy S9 Plus with a dual 12-megapixel rear camera. The smaller S9 may get a single-lens camera, according to the report.
Samsung's teaser implies that "new camera technology will be the major feature," Ben Stanton, an analyst at Canalys, told Fox News.
"That confirms a long-held suspicion within the industry that most smartphone improvements this year will be on the inside, not the outside," he said.
Both of the new Samsung phones may get a camera with variable aperture. "The camera is said to be able to switch between F1.5 and F2.4 apertures depending on the scenario. That means it will be able able to let in more or less light as needed," wrote CNET.
"The standout feature is surely the mechanically-controlled variable aperture," Venture Beat's Evan Blass told Fox News in an email.
New sensors are expected to boost low-light photography and improve auto focusing and increase frame rates for video recording. A report at NDTV points out that the sensor technology has already been discussed publicly by Samsung.
Other rumored tweaks include better placement of the rear fingerprint sensor, according to a purported leak of "factory CAD-based renders" from a report in December.
Other widely-reported specs include Qualcomm's newest Snapdragon 845 processor, 4GB of RAM and 64GB of storage for the S9. The S9 Plus may contain 6GB RAM, 128GB of storage and possibly larger storage options.
APPLE'S LATEST IOS UPDATE LETS YOU TURN OFF BATTERY THROTTLING, AMONG OTHER FEATURES
The competition
Samsung needs to close the gap with Apple on biometrics, according to Canalys' Stanton. "It needs to invest in better biometric authentication, to close the gap with Apple's FaceID, so I also expect there to be a key announcement on either iris scanning or 3D face scanning," he said.
"I also expect Samsung to spend time on Bixby in its product launch," Stanton added, referring to Samsung's intelligent virtual assistant. "Bixby had a slow roll-out this last year, and has seen some negative feedback from the press. If it is serious about voice technology, Samsung should use its stage time in Barcelona to show the value of Bixby above other assistants."