Samsung Galaxy Note 10.1 Hands-On: Tablet and Pen Done Right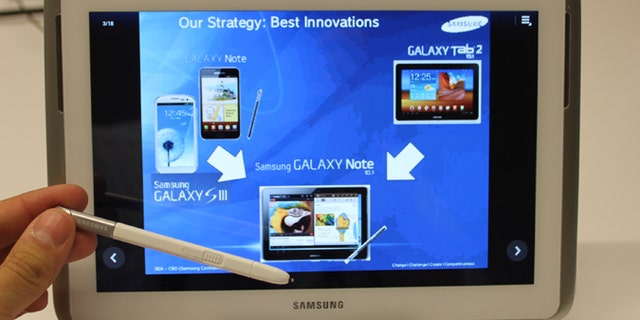 Apologies to Mayor Bloomberg, but the Galaxy Note is getting supersized. Samsung's latest tablet, the Samsung Galaxy Note 10.1, aims to combine some of the best features of its Galaxy Tab 2 10.1 tablet and Galaxy S III with the pen functionality of the Galaxy Note. At $499 for the 16GB version and $549 for the 32GB version, Samsung is hoping to beat Apple by offering a better productivity tool. Here's our first impressions.
Available in deep gray and white, the plastic design of the new Note is similar to the Galaxy Tab 2 10.1. We're pleased to see that the Note 10.1's speakers are on the front, facing the user. The device measures 10.3 x 7.1 x 0.35 inches and weighs 1.3 pounds, making it lighter and thinner than the third-generation iPad (9.5 x 7.3 x .37 inches, 1.44 pounds).
Like the Galaxy Note phone, the Galaxy Note 10.1 has a small dock in its corner for an included S Pen stylus, which, using radio waves, acts much like an active stylus you'd find on a Windows-powered Tablet PC. Gestures such as hovering are supported, so users will be able to open drop-down menus on web pages, for instance. Also, palm rejection kicks in at 14mm, where it had been just 8mm in the Galaxy Note.
Samsung includes a number of software and utilities optimized for the S Pen. As soon as you remove the S Pen from its holster, a small bar appears on the right edge of the screen and displays pen-optimized apps. You can also take screenshots by long-tapping the stylus on the display. Also, within the Samsung App store is a special section that lists apps optimized for pen input.
A few enhancements in S Note will also let you do more with your handwriting. If you draw a geometric shape, such as a square, a feature called Shape Match will automatically straighten the lines and angles. Similarly, if you scribble a formula, Formula Match will convert it to text, which you can then look up using the built-in Wolfram Alpha search. Within the photo app, pressing harder on the display with the S-Pen will result in drawing a thicker line.
The Galaxy Note 10.1 also ups the ante on multitasking. Users will be able to run two apps side by side in either portrait or landscape mode. Currently, this feature is limited to the browser, S Note, the Video Player, Gallery, and Email. Further adding to the multitasking is Pop-up Play, which puts the video player into a resizable floating window.
As with previous Samsung tablets, there's a Mini Apps tray that grants quick access to smaller versions of the Calculator, Alarms, Email and Task apps that run on top of what you're doing. Between this tool and the Snap-like, side-by-side apps, all of this can result in a pretty busy desktop that's reminiscent of Windows.
Several Galaxy Note users can link their tablets via Group Cast (leveraging Wi-Fi) in order to view the same document. You can also make annotations that the rest of the group can see, which comes in pretty handy for interactive presentations. During a demo the projected screen our our Note 10.1 was a bit blurry but our scribbles appeared instantly on other nearby tablets.
Other features borrowed from the Galaxy S III include Smart Stay, which keeps the screen on just by staring at it, and Share Shot, which identifies friends in your pics to make it easier to share them via social networks.
In terms of hardware, the Galaxy Note 10.1 has a 10.1-inch, 1280 x 800-pixel screen, a 1.4-GHz Exynos 4412 quad-core processor, 2GB of RAM, and a microSD card slot that can take cards up to 64GB. The tablet has a rear-facing 5MP camera, and a front-facing 1.9-MP camera. Connectivity options include Bluetooth 4.0 and 802.11a/b/g/n. The Note 10.1 has a 7,000 mAh battery.
Samsung bundles the Note 10.1 with apps such as Nook, Polaris Office, Kno, and the Peel TV remote app. Yes, you can use this tablet as a universal remote. Photo editors will love the bundled copy of Adobe Photoshop Touch, which makes it easy to make all sorts of image tweaks with the pen (for finer movements) or your finger. Note customers will also get 50GB of Dropbox storage free for 2 years.
Although it's running a modified version of Ice Cream Sandwich now, Samsung says the Galaxy Note 10.1 will be upgraded to Android Jelly Bean this year.
Accessory options will include a TV dongle that will let you beam whatever is on your tablet to the big screen, a desktop dock ($34.99), and book cover cases.
So what's missing? Unfortunately, the Note 10.1 doesn't come with an NFC chip, so you can't use a feature like S Beam to send photos or videos from your Galaxy S III phone to the tablet or vice versa. Samsung also did not include S Voice, deciding that Siri-like functionality belongs on the phone (at least for now).
Despite being too much of a tweener for us, the brisk sales of the Samsung Galaxy Note phone proved that there is still an appetite for pen input. To us, the Note 10.1 is a lot more practical, and we can't wait to see how well this device fits into our daily work (and play) routine. Stay tuned for our full review.