Russian Embassy's 'video game' tweet about Syria sparks scorn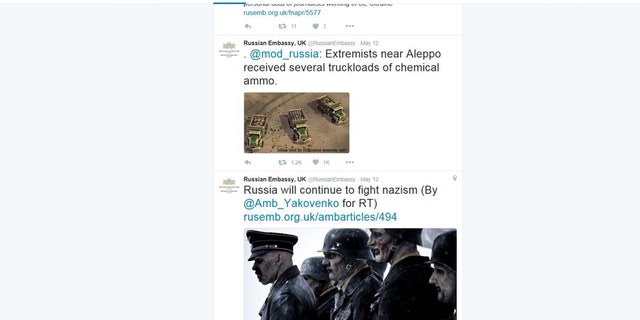 The Russian Embassy in London is being mocked for illustrating a tweet about purported chemical weapon movements by Syrian rebels with a screenshot from a video game.
The tweet was sent out on Thursday. "Extremists near Aleppo received several truckloads of chemical ammo," it explained. Bizarrely, the tweet was accompanied with a screenshot of three trucks from the PC game "Command & Conquer: Generals." One of the trucks bears a biohazard symbol.
The embassy's tweet cites information from Russia's Ministry of Defence. In a statement released Wednesday the Ministry said that "trucks with improvised munitions fitted with chemical warfare agents based on chlorine have arrived in northern territories of Aleppo, which had been controlled by Jabhat al-Nusra terrorists, from the Idlib province."
Related: Video game depicts Iran's 1979 revolution, angers Tehran
A note on the Russian Embassy's tweeted screenshot says "image used for illustration purposes only."
However, iNews.co.uk notes that the image is the first to appear following a Google image search for the term "bomb truck."
The embassy's use of a video game screenshot has drawn scorn from a number of users, who have parodied the tweet with screenshots from games such as "Minecraft."
The Russian Embassy in London clearly takes a unusual approach to social media. The embassy used a still from "Dead Snow," a Norwegian Nazi zombie movie, to accompany another tweet sent out on Thursday.
Aleppo, Syria's largest city and once its key commercial center, has been a key battleground in the country's bloody civil war. Russia has drawn down its forces in Syria, but continues to help the regime of Syrian President Bashar Al-Assad conduct military operations.
Related: Dauntless system taps game tech for
law enforcement, military training
Citing the Syrian Observatory for Human Rights and rebel sources, Reuters reported Thursday that Syrian government forces fought with rebels north of Aleppo as a ceasefire in the city expired.
"Command & Conquer: Generals" is a strategy game that pits the U.S. and China against a global terrorist organization.
EA Games, publisher of "Command & Conquer: Generals," has not yet responded to a request for comment on this story from FoxNews.com.
The Associated Press contributed to this report.