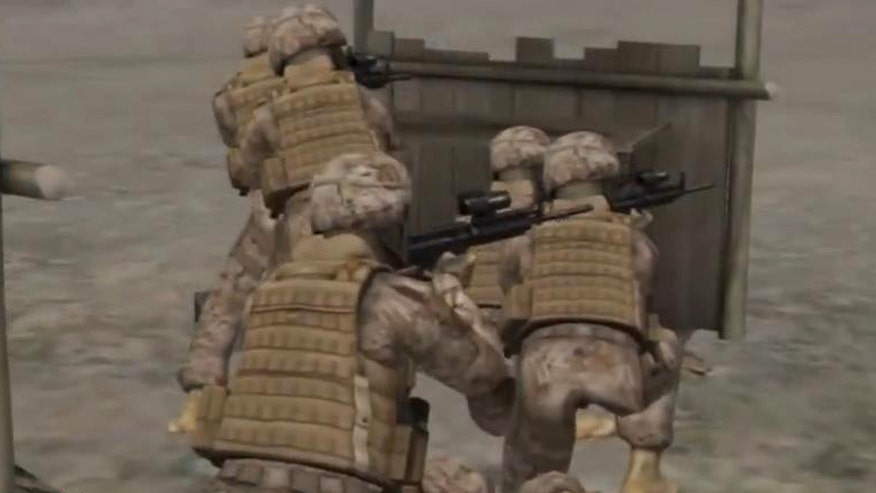 Have you trained in Dauntless? No longer just a question for fans of the sci-fi movie "Divergent" (Dauntless is one of the factions in the world depicted in the movie).
Motion Reality revealed its new virtual reality training system at the Defence and Security Equipment International (DSEI) in London last week. The DAUNTLESS system feels like the immersive placement test tech used to determine factions in the "Divergent" world.
Instead of plunging into "fearscapes" like those used in "Divergent", the focus in this system is training for the fight.
Lots of training technology for the military and law enforcement relies on displays where the experience is limited to interacting with a screen.
Related: Desert Hawk drone soars in London
Motion Reality is different. DAUNTLESS is a successor to the company's VIRTSIM, which is a fully immersive virtual reality-training simulator. The FBI acquired VIRTSIM in 2009 and uses it to train personnel.
DAUNTLESS leverages CryEngine game technology to provide cutting-edge high-resolution graphics and video game capabilities.
When more than 300 NYPD Counter Terrorism Officers tried DAUNTLESS with the National Center for Biomedical Research and Training (NCBRT), it was very highly rated.
Virtual Worlds
The trainees move through a space about the size of a basketball court - approximately 5,000 square feet. The space has been overlaid with the virtual setting, such as a compound in Iraq or a subway system in New York City.
Everyone involved in the training scenario is fully immersed in the virtual world and challenged by 360-degree threat environment. A number of different environments are available for training. Without changing venues this means that a team can train in a park, an apartment building and a school.
Confined spaces like hallways, stairs and apartments can be selected. Trainees can practice active shooter drills, entry point, room entries, visual clears and more.
Extremely versatile, an individual can use DAUNTLESS to hone skills and tactics or take on a scenario with a partner. Entire teams can even fight together in virtual battles.
Individuals can work on weapon discipline, making deadly force decisions and covering danger areas. As a team, they can work on clearing, cover and concealment techniques as well as communication.
Avatars
The tech takes the body of the human that is training and transforms it into a 3D avatar – even matching the human's height, weight and other physical characteristics, forcing them to cope and interact with the world just like they would in real life.
Related: Tech hunts concealed threats to better protect US airports
For example, if a trainee is particularly tall, then the avatar will need to duck through a low ceiling corridor while a shorter colleague can pass freely.
The avatar can kneel, crawl, walk, jump, run, travel up and down stairs. Those training can move around in the virtual world – without any restrictions like wires or tethers - just like they would on real missions to work on tactical performance.
Weapons and Gear
So what about the training gear? The VIRTSIM handgun and rifle are realistic in dimensions, weight and even recoil. Just like in real life, you have to reload and have limited rounds.
The system can even challenge participants with random malfunctions where they must react and respond.
Plate carriers, chest rigs and belts can all be worn under the trainee gear.
Performance Review
Each participant's training performance is automatically recorded. Participants and team leaders can easily access the performance, review and evaluate. The After Action Report (AAR) assesses performance ranging from basic individual movement to the more complex nature of team clears.
In addition to the participant's point of view, the 3D AAR provides playback of movement and shots from every angle. Weapon handling, use of cover and concealment, and areas of responsibility can all be reviewed.
While it was developed for military and law enforcement, could eventually be available to civilians as an ultimate gamer experience.
Ballet dancer turned defense specialist Allison Barrie has traveled around the world covering the military, terrorism, weapons advancements and life on the front line. You can reach her at wargames@foxnews.com or follow her on Twitter @Allison_Barrie.
Allison Barrie is a defense specialist with experience in more than 70 countries who consults at the highest levels of defense and national security, a lawyer with four postgraduate degrees, and author of the definitive guide, Future Weapons: Access Granted, on sale in 30 countries. Barrie hosts the new hit podcast "Tactical Talk" where she gives listeners direct access to the most fascinating Special Operations warriors each week and to find out more about the FOX Firepower host and columnist you can click here or follow her on Twitter @allison_barrie and Instagram @allisonbarriehq.