'Rogue' MLB employee coats Facebook with insanity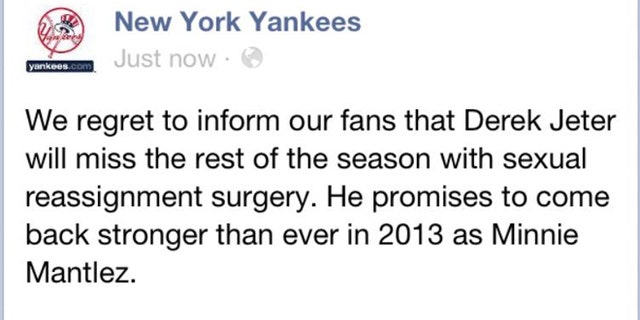 No, Derek Jeter isn't getting "sexual reassignment surgery."
And the Chicago Cubs don't hate Bill Murray.
Those are just two of several wild and crazy posts made by official Major League Baseball teams on Facebook Thursday, leading to speculation that the organization's account had been hacked by someone with a real bug in his bonnet about baseball.
The reality is far more pedestrian: A Facebook spokesman told sports blog Deadspin that a single 'rogue' MLB staff member posted the sometimes hilarious, sometimes offensive comments as a stunt never intended to go public.
"Several Pages made unauthorized posts as a result of actions from a single rogue administrator of these Pages," Facebook said in a statement supplied to FoxNews.com. "Our team responded quickly and worked with our partners to eliminate the spam caused by this attack. This was an unique, isolated incident and we are always working to improve our systems to better protect our users and their data."
Fans of the Yankees found the comment more funny than offensive.
"I'm sure Jeter had a good laugh at that prank, I know I did," wrote Christina Rios.
"This has got to be the funniest story in Yankee history," wrote self-proclaimed rabid Sox fan Barbara Ellis Cargill. "It doesn't get any better than this!"
Fans of the Los Angeles Angels, which advised Facebook followers to "check out the sweet bazongas on the blond in section 27," were not given the opportunity to post their opinions online. But Chicago White Sox fans were largely amused by a post that said the team was voting for Romney -- and ended with the hashtag "MuslimPresident."
"Did the inappropriate message contain the words Cubs and World Series? Those should never be together," joked Jim Morgin.
"Some of 'em were hilarious (Giants or Yankees), but one of 'em did take it too far (Padres)," Franky Ramirez wrote.
Other Facebook posts -- from the San Diego Padres comment strongly discouraging attendance by the handicapped to "free pitbull night at Marlins Park" -- were removed, likely before most baseball fans could see them.
A note on the San Francisco Giants page said simply "Wow, the Chick-fil-A guy sure is an a**hole."
Deadspin said the employee, which it declined to name, meant the action as a protest against low wages.
"MLBAM runs all the teams' web pages, Facebook pages, and, presumably, Twitter feeds. That's a lot of responsibility -- and power -- put in the hands of people who apparently aren't being paid very much," the sports blog wrote.
The rogue employee himself took down the post, Deadspin reported.
But apparently, none of us ever saw "the best ones."