PHOTOS: Extremely rare 'pale tiger' photographed for the first time ever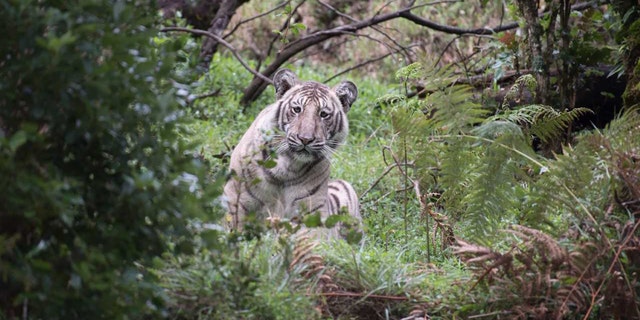 NEWYou can now listen to Fox News articles!
A rare "pale tiger" has been photographed in southern India, the first time one has been captured on film.

"It was raining on and off," photographer Nilanjan Ray wrote in an email to Fox News, describing the trip. "The rain had stopped for a few minutes, and the sun was about to come out. I was driving, when after a turn, we suddenly saw something that looked like a tiger (this one looked normal) walking on the road, maybe 200++ feet away. After a few seconds it ran up the hillside and vanished."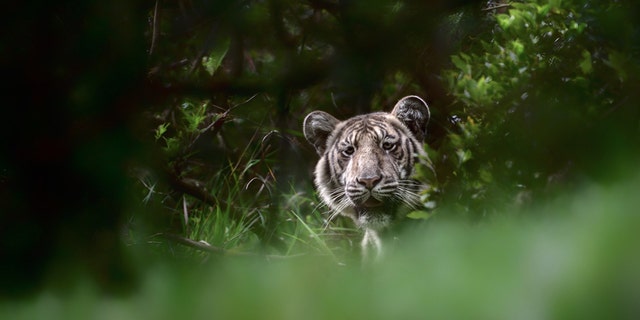 The "pale tiger" is different from a white tiger, as it to believed to have a genetic mutation that causes color morphism.
STRANGE 'DOME' AND 'PYRAMID' SPOTTED ON MARS, ALIEN HUNTERS SAY
Ray added that he waited for the tiger to come back but it did not. He and his crew began to drive past the stretch, where he noticed the "white looking tiger" on the hillside, partially concealed by the undergrowth.
"It looked rather curious (and cute) than scared or aggressive," Ray told Fox News. "And then another tiger - normal, orange one - appeared, much closer to us. We could see its head behind a bush. They could be siblings, or mother and cub (the white one looked like a sub-adult). They played hide and seek with us for a while before vanishing, but not before I had taken some photos."
Ray took the photographs while in the Nilgiri biosphere reserve in Tamil Nadu state. The images have gone viral after Ray released them on his website.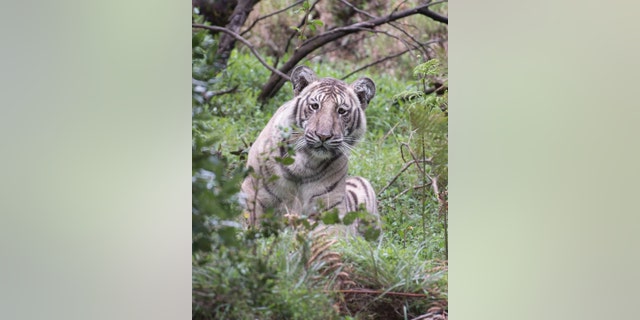 The photographer, who left the corporate world a couple of years ago to pursue his passion in photography, said he has told the forest department about the tiger. They assured him they were taking the the "necessary steps (camera traps, protection etc.)" and that the exact location would not be made public "because of obvious crowding and poaching threats.
ANCIENT LAND-DWELLING CROCODILE HAD T. REX SIZED TEETH, STUDY SHOWS
"It is the palest tiger I have ever seen on the record or heard about in literature," said Belinda Wright, the founder of the Wildlife Protection Society of India in an interview with The Guardian.
Wright added that she has only seen one pale tiger before this one, but added it wasn't as pale as the one recently photographed.