Opioid crisis: Sellers tout prescription drugs on social media
As America's opioid crisis escalates, sellers touting drugs for sale without prescription have surfaced on YouTube and Facebook, where the social media giants unwittingly help fuel the illegal trade.
Eric Feinberg, who runs anti-counterfeiting company GIPEC, forwarded to Fox News screenshots from Facebook of sellers purportedly offering the likes of opioid pain medication Fentanyl and other prescription drugs.
TRUMP DECLARES OPIOID EPIDEMIC PUBLIC HEALTH EMERGENCY – HERE'S WHAT THAT MEANS
"You can buy Fentanyl Transdermal patches online without prescription (No RX) from us at relatively low prices," explained one post. Fentanyl and other synthetic opioids have been cited as major killers in America's opioid epidemic.
Fox News forwarded three examples of Facebook prescription drug sellers to the social network, including the post selling Fentanyl. "Facebook's Community Standards prohibit any attempts by private individuals to purchase, sell, or trade prescription drugs," a Facebook spokeswoman told Fox News, via email. "Once something is reported to us, our teams review it and will remove it if it violates those policies. In this case, the profiles and Page in question violated our Community Standards and have been taken down."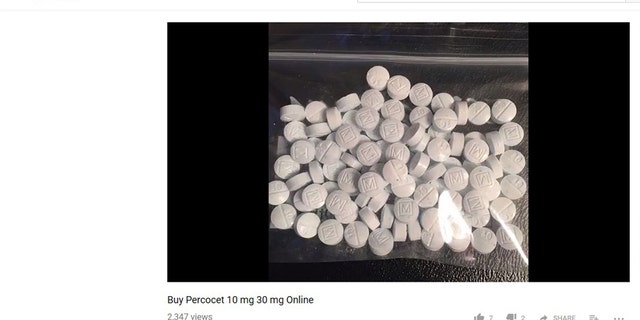 President Trump declared the opioid crisis a "public health emergency" Thursday.
Videos promoting opioid sales have also emerged on YouTube. "Buy Oxycodone Oxycotin Percocet Roxycodone Vicodine [SIC]," explains one video. "Order without prescription no hassle involved."
1-YEAR-OLD DIES AFTER INGESTING POWERFUL SYNTHETIC OPIOID
"Buy Percocet Online," says the post accompanying another video. "No RX Require."
Percocet is a powerful, highly addictive painkiller. Authorities believe that a street version of the drug was linked to a spate of overdosesin Georgia earlier this year.
The Centers for Disease Control estimates that 91 Americans die every day from opioid overdose. More than 1,000 are treated in emergency departments every day for not using prescription opioids as directed, according to CDC data.
ARIZONA BILLIONAIRRE FUELED OPIOID CRISIS WITH BRIBERY SCHEME, AUTHORITIES SAY
Feinberg told Fox News that he has been monitoring social media posts related to opioid sales since 2013. "It's so available," he said. "Is there a correlation between the opioid crisis and the rise of social media?"
Fox News has reached out to YouTube for comment on this story.
On Thursday President Trump announced new steps to combat what he described as the worst drug crisis in U.S. history. Trump's declaration, which will be effective for 90 days and can be renewed, will allow the government to redirect resources in various ways and to expand access to medical services in rural areas.
Critics, however, have urged the government to bring new dollars to the battle against opioid abuse.
The Associated Press contributed to this article.
Follow James Rogers on Twitter @jamesjrogers