Nokia Unveils N9 Smartphone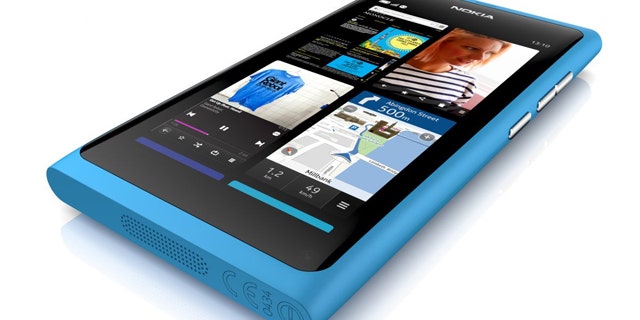 SINGAPORE – Nokia on Tuesday unveiled several new mobile devices, including the N9 smartphone, as the Finnish phone giant seeks to regain lost ground in the highly competitive industry.
Chief Executive Stephen Elop said during a briefing in Singapore the new N9, which is based on the MeeGo platform, would be launched later this year, but he did not provide further specifics on the launch date or the price. The N9 is a touch screen device, sports an 8-megapixel camera, and has a 3.9-inch (9.9cm) high resolution AMOLED display.
The company also said it planned to launch up to 10 new Symbian-based smartphones over the next 12 months.
Nokia last year partnered with U.S. chip giant Intel to develop MeeGo -- a combination of Nokia's Maemo and Intel's Moblin platforms tipped for use in Nokia's high-end smartphones and other devices such as tablets and TV sets.
The project has faced setbacks, including Nokia's deal with Microsoft Corp., although the Finnish firm had said it would launch a MeeGo device in 2011.
In February, Nokia signed a partnership with Microsoft to use the US firm's Windows Phone software as its principal smartphone operating system, replacing its own Symbian software, which has been losing ground to Apple's iPhone and smartphones that run Google's Android.
"I have increased confidence that we will launch our first device based on the Windows Phone platform later this year, and we [will] ship our products in volume in 2012," Elop said.
The comments come as the world's biggest handset maker by shipments struggles under intense pressure from competitors like Apple, which have in recent years taken market share away from Nokia while pulling ahead in the lucrative and fast-growing smartphone business.
Nokia has seen its leading share in smartphones decline sharply as Apple and Google Inc. have developed software that consumers prefer. In the first quarter, Apple overtook Nokia for the first time to become the world's largest handset vendor by revenue, generating $11.9 billion of handset revenue compared with Nokia's $9.4 billion, according to consultancy Strategy Analytics.
Japanese bank Nomura said in a note last week it expected Samsung Electronics Co. to end Nokia's 14-year market leadership of the global smartphone market in unit terms from the second quarter this year, with Nokia set to rank third behind Samsung and Apple.
Investors, however, remain pessimistic over Nokia's prospects after it said last month second-quarter sales and margins would fall below expectations due to lower volume and prices, and threw out sales forecasts for the rest of 2011 without providing new targets. The company had also hinted at problems beyond the smartphone market, including difficulties fending off Chinese manufacturers in the global market for cheaper, lower margin phones.
The firm's shares have fallen more than 40 percent in the year to date.