Newly-released images offer first glimpse of next-generation Marine One prototype
Newly-released images show the prototype of the next-generation Marine One helicopter landing on the White House South Lawn.
A spokesman for the U.S. Naval Air Systems Command (NAVAIR), which is overseeing development of the new presidential helicopter, told Fox News that the pictures were taken during testing on Sep. 22.
The images show the Sikorsky-built VH-92A helicopter painted in the traditional presidential airlift colors.
TRUMP'S NEW 'BEAST' LIMOUSINE SPOTTED ROAMING NEW YORK CITY
"There isn't a part of this helicopter that isn't tested – down to the paint," explained the NAVAIR spokesman. "We took delivery from Sikorsky in August and began testing."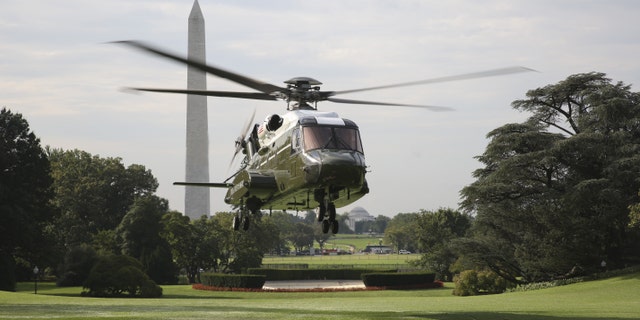 The images were first reported by The Drive website.
The aircraft is the first of six test aircraft developed under the Engineering and Manufacturing Development (EMD) phase of the project, according to NAVAIR. This includes the design, certification and testing of a replacement helicopter "to support the presidential world-wide vertical-lift mission."
ARMY AND AIR FORCE CRAFT NEW JOINT COMBAT ATTACK PLAN
The landing and take-offs were part of a comprehensive test plan designed to ensure the aircraft meets all operational specifications, NAVAIR said.
Citing a GAO report, The Drive notes that the helicopter's impact on the White House lawn is an important part of the testing process.
The prototype, known as Engineering Design Model (EDM 1) is the result of a years-long effort to build the new Marine One helicopters.
"The whole program is going exceptionally well," the NAVAIR spokesman told Fox News.
ARMY SETS SIGHTS ON NEW SNIPER CAMOUFLAGE
The new helicopter is expected to be ready for deployment in late 2020. The White House Military Office will make the decision on when it will actually be used by the President, according to NAVAIR.
Follow James Rogers on Twitter @jamesjrogers