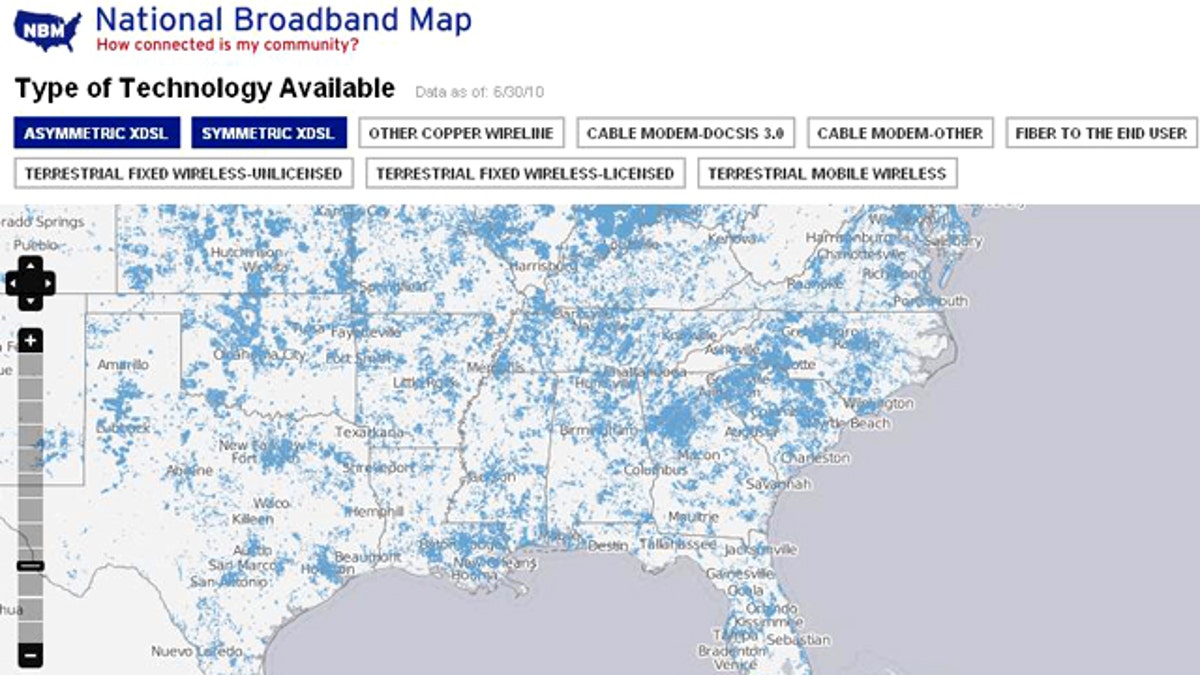 Are you being served?
The first public, searchable nationwide map of broadband Internet availability has just gone live. Called the National Broadband Map, the website was released by the Department of Commerce's National Telecommunications and Information Administration Thursday afternoon, revealing which providers supply the fastest Internet connectivity -- and which communities are the most in need.
The map is based on more than 25 million records, data gathered from each state, territory, and the District of Columbia, and was collected directly from broadband providers and other data sources. It lets you search by address to find the fastest ISP where you are, or use interactive tools to compare Web surfing speeds across the state or county.
FCC Chairman Julius Genachowski called it a significant milestone.
"This cutting-edge tool will ... provide consumers, companies and policymakers with a wealth of information about broadband availability, speeds, competition and technology, and help Americans make better informed choices about their broadband services," Genachowski said in a statement released by the NTIA.
The NTIA also released the results of a new nationwide survey on broadband adoption. It paints a darker picture than one might expect: As much as 10% of the country lacks broadband Internet access -- and stands at risk of being left behind as the 21st century economy becomes increasingly digital, officials said.
"The National Broadband Map shows there are still too many people and community institutions lacking the level of broadband service needed to fully participate in the Internet economy," NTIA administrator Lawrence E. Strickling said. "We are pleased to see the increase in broadband adoption last year, particularly in light of the difficult economic environment, but a digital divide remains."
The map shows that between 5 and 10 percent of Americans lack access to broadband at speeds sufficient to download Web pages, photos and video, and use simple video conferencing, according to the NTIA. The FCC last July said 4 Megabits per second (Mbps) downstream and 1 Mbps were needed for such activity. And not enough people have access to this level of service, officials said.
"A state-of-the-art communications infrastructure is essential to America's competitiveness in the global digital economy," said acting commerce deputy secretary Rebecca Blank.
Other key findings:
Ccommunity institutions: The data show that community anchor institutions are largely underserved. For example, based on studies by state education technology directors, most schools need a connection of 50 to 100 Mbps per 1,000 students. The data show that two-thirds of surveyed schools subscribe to speeds lower than 25 Mbps, however. In addition, only four percent of libraries reported subscribing to speeds greater than 25 Mbps.
Wireless speeds: Approximately 36 percent of Americans have access to wireless (fixed, mobile, licensed, and unlicensed) Internet service at maximum advertised download speeds of 6 Mbps or greater, which some consider the minimum speed associated with "4G" wireless broadband service. Ninety-five percent of Americans have access to wireless Internet service speeds of at least 768 kbps, which corresponds roughly to "3G" wireless service.
The map will be updated every six months, the NTIA said, and using crowdsourcing tools, the public can help improve accuracy by providing feedback on the data.