New Facebook App the 'Farmville' of Energy Conservation?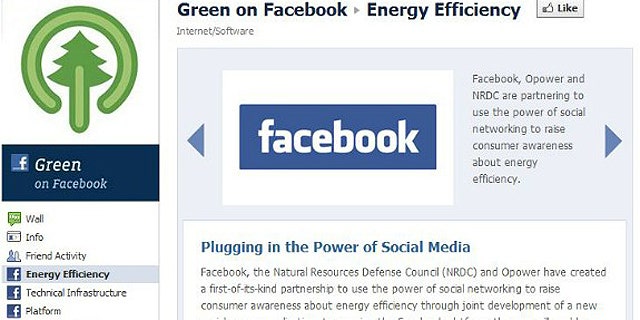 By harnessing the power of social gaming, a new coalition hopes to become the Farmville of home energy conservation.
The average American spends just six minutes a year thinking about their energy consumption, a statistic that Facebook, the Natural Resources Defense Council (NRDC), and energy management firm Opower hope to change through a new social energy app.
"Social networking represents the next frontier in delivering consumer energy savings," Dan Yates, co-founder and chief executive officer of Opower, said in a statement. The group is hoping to reach a broader segment of the population, one that may have had little interest in energy efficiency to date.
The app will combine the competitiveness of a game with real-world data. Facebookers can benchmark their home's energy usage against a national average of similar homes, compare their energy use with friends, enter energy-saving competitions, and share tips on how to become more energy efficient.
According to NRDC, improvements in energy efficiency have the potential to deliver more than $700 billion in cost savings in the United States.
The key to the new app is Opower's network of more than 60 utility partners who will make customer data available for use in the app. Commonwealth Edison (ComEd), the City of Palo Alto (in California), and Glendale Water & Power (GWP) will be the first U.S. utilities to participate, representing around 4 million customers when the app launches in early 2012.
The power of peer pressure
The app is built around the idea of competition. People will be able to invite friends to compare their energy use against their own and show how energy efficient they are. In the absence of a network of energy-conscious friends, the app will provide national data as a substitute. Players can also manually upload data from their monthly bill if their utility is not participating.
Communities of people will be able to form teams to help each other achieve collective goals, as well as compete against other groups. Teams will be rewarded and incentivized by their utility or other network partners.
The new app is being promoted by Facebook on its Facebook Green page, a resource for people interested in learning more about Facebook's commitment to environmental stewardship. Currently, Green has garnered more than 95,000 "likes" by users.
* 7 iPhone Apps that Help Save the Planet
* What to Do Before You Get Your Facebook Timeline
* Electrical Bloodsuckers: How to Slay 'Energy Vampires' in Your Home
Copyright 2011 TechNewsDaily, a TechMediaNetwork company. All rights reserved. This material may not be published, broadcast, rewritten or redistributed.