New F-35A fighter jet gets a new powerful bomb
Tensions between North Korea and the United States show no signs of abating. If anything, the threat of war and a North Korean nuclear attack continued to escalate.
Now, enemies of the U.S. will soon face the most advanced fighter jet in the world - with even more firepower.
The F-35 lightning II is the world's first fifth-generation fighter jet. It has extraordinary stealth capabilities that will allow the aircraft to fly deep into enemy airspace without detection.
For the very first time, the nation's most advanced fighter jets, the F-35's, are deployed in Asia as a theater security package (TSP). At Kadena Air Force Base in Japan, these incredibly advanced new joint strike fighters stand ready with America's extraordinary pilots to maintain security and ensure stability in the region if necessary.
Made by Lockheed Martin, this new military aircraft is called a multi-role fighter because of its versatility and its ability to take on a range of missions. The pioneering technology on board will allow the F-35 to conduct intelligence surveillance and reconnaissance missions like never before.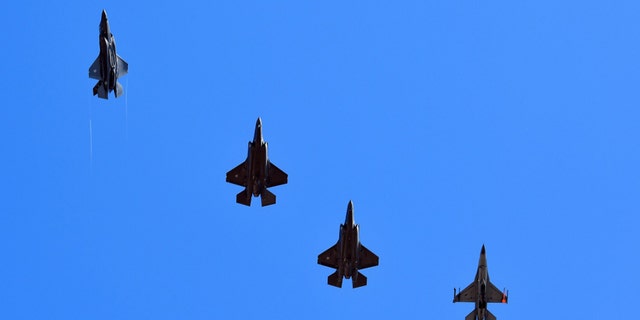 'Tis the season for better bombs
But the F-35's can also deploy as formidable attack aircraft that can bring mind blowing capabilities to any fight, armed with some of the most advanced and devastating weapons in the world.
The US Air Force is adding Raytheon's GBU – 49 Enhanced Paveway II bombs to their F–35. It will make America's new joint strike fighter even more lethal.
Flight testing with the bomb is underway this month and the Air Force is expected to receive 400 guidance kits by the end of next month.
Ever more deadly, potent weapons are underway to arm the trailblazing fighter jet.
MAKING MUNITIONS SAFE: HOW CAN WE STOP AMERICAN BULLETS, BOMBS AND MISSILES FROM KILLING AMERICAN TROOPS?
What is a GBU – 49?
Crucially, it will give the F-35A's the ability to hit moving targets with powerful bombs.
Right now, the ability to strike moving targets could be described as less than ideal. Pilots have the option, for example, to manually direct munitions like a GBU – 12 to a moving target.
Similar to the Small Diameter Bomb II slated to arm fighters in the future, the GBU-49 Enhanced Paveway II is designed to strike moving targets.
PODCAST: LEARN HOW TO SURVIVE A HELICOPTER CRASH WITH THIS SPECIAL OPERATIONS EXPERT
Why does a bomb like this matter?
Threats to Americans and security are not always stationary.
And it is not easy to hit a moving target. when you put hitting a moving target in the context of flying a fighter jet at speeds far faster than sound travels-it becomes even more difficult.
Consider a scenario where an ISIS bomb maker, who has killed countless Americans with his bombs, has been tracked to a compound. By the time American fighter jets reach the area, the bomb maker has jumped in a vehicle to flee.
The F-35s harness a massive Pratt and Whitney engine to deliver astonishing fighter speeds of approximately 1,200 mph. So now the fighter jet traveling at these immense speeds must still accurately hit a rapidly maneuvering vehicle to stop the bomb maker before he can kill more Americans.
Or take another hypothetical scenario involving a dangerous dictator. He announces he is travelling to a nuclear weapons facility to launch a nuclear weapon at U.S. home soil.
To protect the United States, the F-35s could theoretically penetrate the country's airspace undetected, but would need a bomb that could precisely and reliably strike the dictator's vehicle racing towards the installation.
This is just one example of why these sorts of bombs, smart powerful bombs that can precisely hit a moving target, are important.
PODCAST: MASTER HOW TO SURVIVE A BRIDGE COLLAPSE + MORE WITH THIS TOP SPECIAL OPS INSTRUCTOR
How does it work?
As you would expect, the details that go into the American military's powerful bombs are closely held.
But here's what can be shared: the GBU – 49's have lasers built into them that allow the bombs to calculate how far a target will move. This way they can anticipate where the target will be for a successful strike.
With their advanced technology, they turn "dumb" bombs into so-called "smart" bombs.
This means that the immense power of American-made bombs can precisely hit their intended targets. These smart-bombs play a key role in making sure a threat is eliminated, while importantly reducing collateral damage and unintended casualties thanks to the precision.
The GBU – 49 Enhanced Pave Way II is one type of Paveway. The Paveway is new to the F 35, but Paveways are not new.
Paveways have in fact been a bomb of choice for some time. If you take Operation Iraqi Freedom, for example, more than 50 percent of the precision guided weapons fired from the air to hit targets on the ground were in fact Paveways, according to Raytheon statistics.
The GBU-49s are similar to the Paveway IVs that have already been integrated on the United Kingdom's joint strike fighters too much success.
WHAT IS THE NUCLEAR ARSENAL AVAILABLE TO PRESIDENT TRUMP?
What's next?
These GBU-49s will bridge the gap until other planned bombs arm the F-35As.
Other highly-anticipated and highly lethal munitions include the Small Diameter Bomb II. These laser designated munitions will also be integrated to the F-35As.
Like the GBU – 49s, they will strike moving targets with precision. And they will do so in all kinds of challenging weather and at a range of more than 40 miles. It is also hoped these bombs can be fired without coming out of stealth.