Navy Begins Floating New Female Caps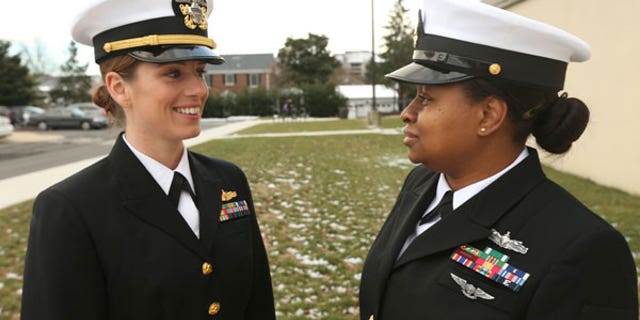 Four months after Navy Secretary Ray Mabus signed off on plans to re-design the service cap worn by female sailors, prototypes of the new combination covers are officially beginning their trials.
The covers were issued April 8-9 to 30 sailors in the Washington D.C. region, the Navy's Uniform Matters Office announced, noting that improving uniformity across the force is one of the chief goals of the redesign.
"As you look out across a group of sailors you ought to see, not female and male sailors, but sailors," Mabus said in December.
The new covers, which resemble the cap worn by men, are more fitted for women's heads. In the fall the Navy will issue the prototypes to a larger test group, about 100 sailors, the uniform office said.
"The sailors participating in the test will wear the covers on a daily basis, enabling them to evaluate fit and function," the Navy said in a statement. "They will record their own observations and comments provided by observers, to be shared at a later date via an online survey and during focus groups at the end of the evaluation period."
In the meantime, anyone spying the new cap who wants to offer an opinion can submit one via email at
usnpeople@gmail.com.
Observations from the wear tests will be considered as the Navy moves toward a final design in fiscal year 2015. The final selection will be introduced into the fleet the next year, the uniform office said.
Feedback from both wear tests will be incorporated into the final design expected in FY15, with fleet introduction in FY16.

Additional information from the Navy's uniform office can be found here.
-- Bryant Jordan can be reach at bryant.jordan@monster.com