NASCAR fans have a new app just in time for the Daytona 500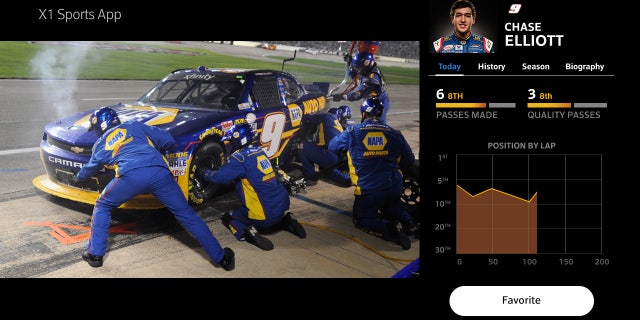 Comcast is unveiling a souped-up sports app for race fans as the NASCAR season shifts into high gear this weekend in Daytona.
The X1 Sports App is available for customers with Comcast's XFINITY X1 cloud-based set-top box. The free app brings stats from a second screen device to the TV screen, as the data rotates along the right-hand side of the screen. Viewers can also dive deeper into some of the stats they care most about.
Related: Hitting the slopes? The best skiing and snowboarding apps
"During the race you'll be able to see lead changes, weather precipitation changes, cautions, and then we'll have recaps, standings, and interviews," Matt Lederer, executive director of sports marketing for Comcast, told FoxNews.com. "What we're seeking to do is seeing that the X1 app is changing the way NASCAR fans watch the race."
The app will be available for the top three national tiers of NASCAR: the Sprint Cup Series, XFINITY Series, and Camping World Truck Series.
Lederer says future "extras" for the app will include customizing stats for updates to track your favorite driver, with a leaderboard highlighting the position and video on-demand.
Related: NFL tees up Super Bowl apps to kick off 'Golden Game' celebration
The cable giant says about one-third of its customers have the X1 platform and that last year the X1 Sports App was used by 1.6 million fans weekly. The service already features Major League Baseball, the NFL, and college football. It also includes the NBA and NCAA basketball.
Comcast has been adding these features and pushing its X1 platform in the face of growing competition from broadband devices and video game consoles that offer video streaming, digital features and stats for sports fans. Xbox One livestreamed the Super Bowl via an NFL app and offered unique Next Gen Stats from Zebra Technologies.
Comcast's gambit to stem the tide of so-called cord cutters appears to be working. The company recently reported that it had finished 2015 strong, adding the most video subscribers in a quarter in eight years.
"The investment and attention we give to X1 is paying off dramatically," Lederer said. "The better the experience we can create for sports fans to have data at their fingertips will help maintain that model."
Related: Apple fits NFC tech and improved iBeacon kit at its stores ahead of iPhone 6 launch
The app is also available when turning the channel to watch a different program, Lederer quips that's "marriage saver" mode, and the service continues updating on the side of the screen.
"We'll lead with this at the 6,500 square-foot XFINITY Zone, which we bring to 14 or 15 race weekends. It's a huge fan interactive area," Lederer said. "This gives our fans a reason to believe that X1 is changing the way they experience NASCAR."