Motorola Reveals Droid Razr: 'World's Thinnest Smartphone'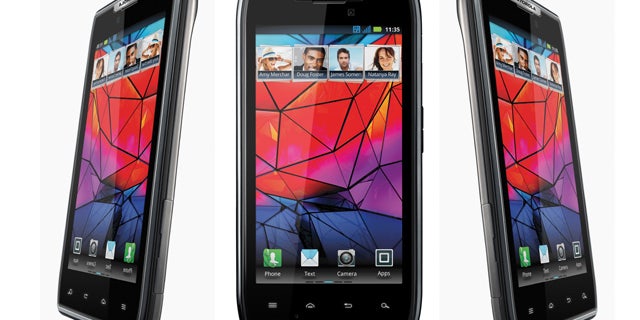 Motorola Mobility revived its once best-selling Razr brand to tout its latest gadget, the Droid Razr, as the world's slimmest smartphone.
The company, which has agreed to be bought by Google for $12.5 billion, hopes to compete with arch-rival Apple's iPhone when it kicks off pre-orders at Verizon Wireless on October 27.
But the device, which sports a more powerful chip than the iPhone and a higher-speed wireless connection, costs $299 -- far more than $199 for the latest basic iPhone 4S.
NPD analyst Ross Rubin said that while the phone could put a dent in iPhone sales at Verizon Wireless, it would be unlikely to sell as many as Motorola's previous Razr, which sold more than 130 million units.
Only about 10 percent of U.S. consumers would buy a $300 phone, Rubin said. "That's a relatively small part of the market. At $199, it would be an explosive seller."
Outside of the U.S. market, the device will simply be called Razr. Motorola hopes to rekindle the popularity of its original Razr, which was the thinnest flip phone on the market when it debuted in 2004.
Motorola also introduced MotoActv, a combined music player, performance tracker and GPS device aimed at fitness enthusiasts. This device will start at $249 for an 8 Gigabyte version. A 16 GB model will cost $299, Motorola said.
Motorola uses Google's Android software to power its smartphones. The Droid Razr, sporting Corning glass, will be able to download movies from Netflix and comes with front-facing and back-facing cameras.
The phone, unveiled days after Apple's iPhone 4S hit markets, is the latest iteration of a line-up that helped stage a recovery for Motorola after years of market share losses.
Motorola's Razr was the most successful phone brand in the company's history. The height of its popularity was from late 2004 until late 2006, when the device started to lose its luster amid tough competition and heavy carrier discounts.
That led to years of market share losses as Motorola failed to come up with another hot device to replace Razr, after having focused on the brand for too long.
Motorola started to turn around in late 2009 with the launch of its first Droid phone sold through Verizon Wireless.