Moscow Denounces US Destroyer's Black Sea Patrol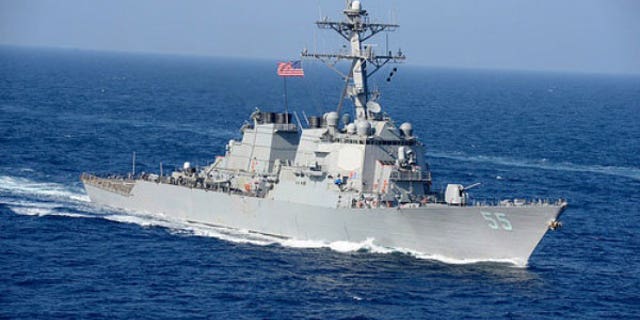 The U.S. Aegis anti-missile destroyer Donald Cook entered the Black Sea Thursday night in a show of NATO support for regional allies bordering Ukraine that brought quick denunciations from Moscow.
NATO also released satellite photos intended to rebut Moscow's claims that Russian forces poised on Ukraine's borders were conducting routine military exercises not connected to the turmoil in Russian-speaking eastern Ukraine.
The images showed warplanes, tanks and mechanized units parked at more than 100 makeshift bases in a "high state of readiness" on Ukraine's borders, NATO officials said. They said there was no evidence that the units had engaged in exercises.
The images were released as Defense Secretary Chuck Hagel conferred by phone with Ukraine's Acting Minister of Defense Mykhaylo Koval on the Russian takeover of Crimea and the troop buildup on Ukraine's borders.
Hagel "told Minister Koval that the United States will continue to stand with Ukraine," the Pentagon said in a readout of the phone call placed by Hagel as he returned to Washington from his 10-day Asian tour.
In an interview with the Associated Press Wednesday, Air Force Gen. Philip Breedlove, NATO's Supreme Commander, said he had been tasked by the alliance to deliver a plan by next week to counter Russian moves against Ukraine.
Breedlove said his recommendations could include the deployment of American troops to alliance member states in Eastern Europe who feel threatened by Moscow.
Breedlove said he would not "write off involvement by any nation, to include the United States," in the plan that he was to deliver by next Tuesday.
"Essentially, what we are looking at is a package of land, air and maritime measures that would build assurance for our easternmost allies," Breedlove said.
The entry of the destroyer Cook into the Black Sea followed on exercises with the Bulgarian and Romanian navies conducted last month in the Black Sea by the Aegis destroyer Truxtun.
The Russian ITAR-Tass news agency quoted a Russian Defense Ministry official as charging that the presence of the Cook and, previously, the Truxtun represented an attempt by the U.S to bring sea-based missile defense systems closer to Russian territory.
The official also speculated that the Cook might visit the Ukrainian Black Sea port of Odessa to show support for the new government in Kiev.
"It isn't known yet if the ship will call into the port of Odessa to demonstrate the U.S. support for the incumbent illegitimate authorities in Kiev, which owe so much to the Americans for their arrival at power," the Russian Defense Ministry official said.
In a briefing at NATO military headquarters in Belgium, alliance officials said that the satellite images were being released to counter "misperceptions" on the Russian military buildup threatening Ukraine.
"I would assess that this is a force that is very capable at high readiness, and is close to routes and line of communications and has the resources to move into Ukraine if it was ordered to do so," said Brig. Gary Deakin, a British officer who heads NATO's crisis operations center.
"It's parked, it's stopped, but it can move very quickly," Deakin said of the Russian force.
One image was said to show a base at Buturlinovka, an airfield 93 miles from the Ukraine. Deakin said the base had previously been de-activated but the image showed more than a dozen parked warplanes, including Su 27 and Su 30 "Flanker" fighters and Su 24 "Fencer" aircraft, along with MiG-31 "Foxhounds."
Another image taken at Belgorod, 25 miles from the border, was said to show 21 attack and troop-lift helicopters, and the presence of what officers said were motorized rifle regiments, Deakin said.
Russia officials rejected the NATO claims.
"Russia has stated many times that it is not carrying out any unusual or unplanned activity on its territory near the border with Ukraine that would be of military significance," the Russian Foreign Ministry said in a statement.
-- Richard Sisk can be reached at richard.sisk@monster.com