Microsoft Windows 8 consumer preview likely available Feb. 29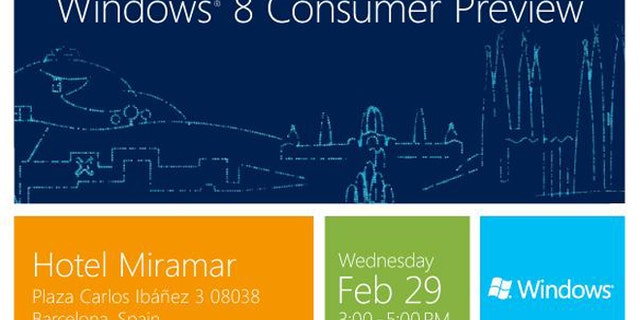 On Feb. 29, Microsoft will pull the covers off Windows 8 -- a radical rethinking of the operating system that runs most of the world's computers. And it has one clear goal in sight: the iPad.
The software giant sent out invitations on Wednesday to an event set for the upcoming leap day, where it will talk about the forthcoming release -- essentially a massive public beta of the next-generation operating system, an overhaul intended to stress the growing importance of tablet computers and smartphones to the overall world of technology.
And you'll most likely be able to download the entire thing for free that day, though Microsoft refused to confirm when the beta software would be available.
The new operating system boasts a completely revamped user interface Microsoft calls "Metro." It will run on top of the conventional interface and is intended to work not just with the hundreds of millions of Windows computers humming away in the world but also with the emerging mobile gizmos that have taken consumers by storm. The new UI will display applications as tiles for quick and easy access, while also allowing them to toggle back to a classic Windows look.
Windows 8 represents a complete overhaul of the Windows interface -- something you certainly don't see every day.
Other user interface changes already unveiled include a new "lock screen" for the operating system that gives far more information at a glance than the current iteration of Windows and pervasive touch input controls -- yet another a signal that Microsoft will be focused on devices that emphasize touch (read that as tablets).
And Microsoft has invested countless engineering hours in allowing the operating system to run on chips from manufacturers other than Intel and AMD, notably the ARM platform that powers most Android tablets and smartphones.
In a move that appears to emphasize the mobile direction, Microsoft has planned the event for Mobile World Congress in Barcelona, Spain -- the main tradeshow of the cellular industry.
John Yarborough, a spokesman for Microsoft, told FoxNews.com the company was not trying to "pigeonhole" the operating system with the venue, however. Microsoft had said stated in December that the company would release a public beta in late February; MWC was merely convenient, Yarborough pointed out.