NASA puts out call for more space taxis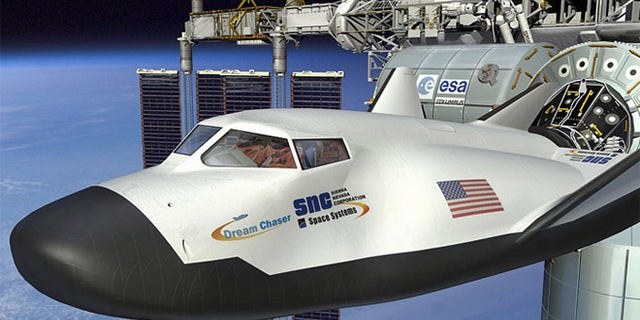 The U.S. investment in commercial space taxis will soon double.
NASA issued a solicitation on Tuesday for the next phase of its so-called Commercial Crew Program, aimed at finding an alternative -- or several alternatives -- to flying astronauts to the space station aboard Russian Soyuz capsules.
ANALYSIS: NASA Moves Step Closer to Space Taxis
It's not a safety issue, though having only one route to the station is dicey. Since the retirement of the space shuttles last year, Russia has the only transportation system for flying crews to the orbital outpost. (China, the only other country that has flown people in orbit is not a member of the station partnership.)
NASA has invested more than $350 million in a half-dozen companies with the goal of getting a U.S. space transportation system flying in the next five years or so.
For the next phase of the program, the agency is looking for at least two partners to flesh out their designs and integrate their spaceships into a full-fledged transportation system that includes launch, mission operations and landing.
NASA has more than $300 million for the program this year, and expects to be able to spend up to $500 million per partner between this summer, when awards will be announced, and May 2014, when this phase of the program ends.
Companies bidding for the work also are being asked to determine how much they need to get to an orbital test flight, as well as what they'd be able to do with a flat budget of $400 million a year.
ANALYSIS: SpaceX Test Fires Awesome New Rocket
Ideally, NASA would like a test flight by the middle of the decade. Goals for the demonstration would be to stay in orbit three days, reach an altitude of at least 230 miles and demonstrate maneuverability in space. Also, the test vehicles should be capable of carrying four people.
Interested bidders have 45 days to respond to NASA's solicitation, which was issued Tuesday.
Companies currently holding NASA funds for space taxi design work are Boeing, Sierra Nevada Corp., Space Exploration Technologies (SpaceX) and Blue Origin, which is owned by Amazon.com founder Jeff Bezos.